Las Vegas' annual Consumer Electronics Show isn't just about tablets and smartphones, you know. Dig deeper and you'll unearth many of the PC components you'd expect to find at Computex.
And you can always rely on Corsair to deliver a treat or two. This year, the company is introducing a couple of new chassis in the form of the Obsidian Series 550D and the Carbide Series 300R.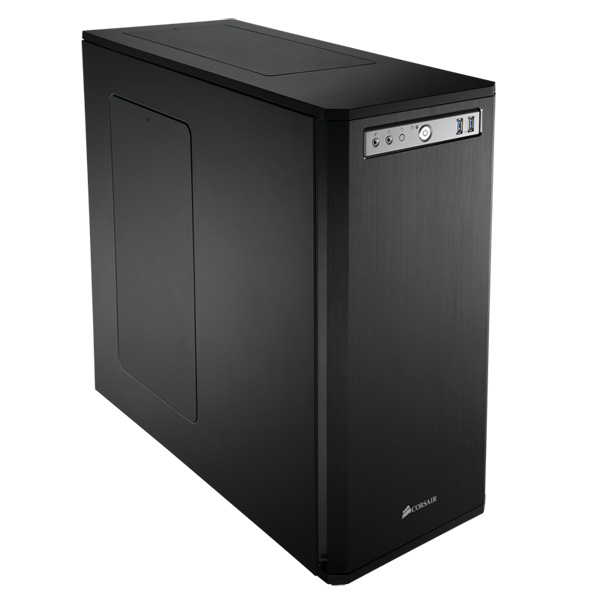 The 550D, pictured above, is the latest addition to the award-winning Obsidian line, but takes a different approach to its 800D and 650D siblings. Unlike the Obsidians we've seen thus far, the 550D isn't geared toward maximum performance and instead claims to have been "engineered for noise reduction and sound isolation."
We've been quietly hoping for a quieter Corsair case, and the 550D looks promising for those who enjoy a more refined computing experience. We'll be going hands on in the next few days, but from what we've gathered so far, the front and side panels are lined with sound-proofing material, and see those rectangular cutouts in the picture above? They're sound-insulated covers for the top and side fan mounts. The idea, in theory, is that the case can be configured for minimal noise or maximum airflow.
It doesn't appear to be as fetching as the 650D (we'll reserve judgement until we've seen it in the flesh), but the brushed aluminium accents suggest quality, and there's a good amount of room for a high-end build. ATX and mATX boards are supported, there are four 5.25in optical bays, six 3.5/2.5in storage bays, and a useful selection of rubber-grommeted cable-routing holes.
The top storage cage can be pulled out to make room for graphics cards measuring anywhere up to 452mm in length, and three fans are bundled right out of the box; two 120mm front intakes and a 120mm rear exhaust. Beyond that, we're told that the 550D can house a total of ten 120mm fans, and six of those can be upgraded to 140mm. Sadly, there's no sign of a built-in fan controller.
The Obsidian 550D is on course to reach retail stores next month priced at $159 (roughly £120 inc. VAT) and it'll be joined by Corsair's new entry-level option, the Carbide Series 300R priced at $89 (roughly £70 inc. VAT).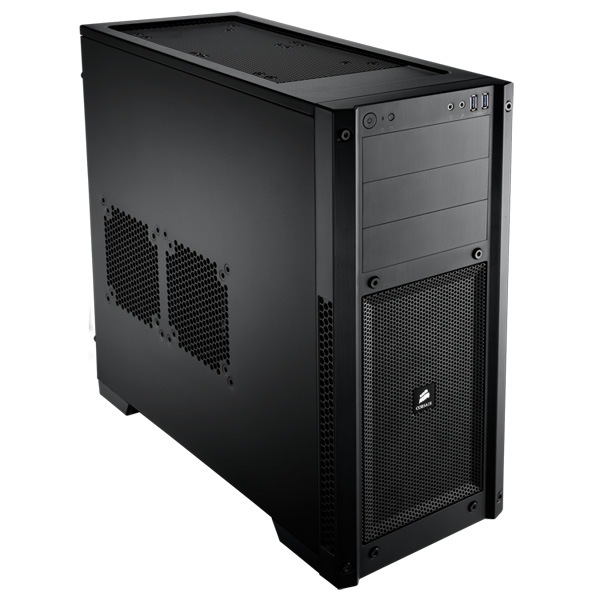 The sub-£100 price tag allows the 300R to follow on from where the 500R and 400R left off, but this time around Corsair has opted to trim the chassis down to 485mm x 210mm x 450mm in size, making this the smallest enclosure the company has ever produced.
We wouldn't go as far as to call it a real space saver, but Corsair reckons the Carbide 300R is "a great choice for building powerful PCs that don't take up a lot of room." With power clearly in mind, the chassis supports both mATX and ATX motherboards, and will happily accept graphics cards measuring up to 450mm in length.
Cooling is provided by two pre-installed fans - a 120mm front intake and a 120mm rear exhaust - and a further five 120mm fans can be added if you feel the need. Plenty of scope for airflow, but some of the goodies available to Corsair's premium alternatives haven't made the cut; the cable-routing holes feature no rubber grommets, there are only four 3.5/2.5in storage bays, and the number of expansion slots has been cut from eight to seven.
Either of these tickling your fancy? Let us know in the comments below, and stay tuned as we'll be going hands-on with both chassis in the very near future.
[Update] Corsair's official product pages for the Obsidian Series 550D and Carbide Series 300R are now live.
[Update 2] Wow, talk about a streamlined launch. Both the 550D and 300R are now available to pre-order from scan.co.uk* priced at £114.84 and £66.36, respectively.
[Update 3] As promised, our hands-on footage is now available at this URL.