We're not alone when we say that we're becoming tired of the over-sized and somewhat-hideous chassis that keep being targeted at the gaming market, and In Win appears to be aware of the situation.
Following on from its sexy-but-feminin Allure, the Taiwan-based manufacturer is today launching its Matrix chassis.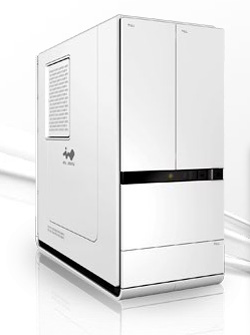 Matrix, pictured above, promises to provide an advanced thermal solution and superior acoustic performance for the "modern gamer", says In Win.
It won't, however, appeal to the majority of enthusiasts as it's smaller than it looks. The chassis has a volume of 12.5 litres and supports only mATX motherboards. It manages to squeeze in room for four full-height PCI expansion slots, but there's room for only one 3.5in drive bay and one 5.25in drive bay.
There's a 6cm fan for cooling the solitary internal hard-disk drive, and PPCT (Partition Plate Cooling Technology) - co-designed by In Win and Intel - promises to provide exceptional CPU cooling by separating the CPU fan from the heat sink to reduce back draft.
No word on pricing or availability just yet, and although we're far from overwhelmed by the specification, it's nice just to see a more streamlined offering. The pearl-white metallic paint and clean design are a whole lot more easy on the eye than other chassis we've seen recently.
Official product page: inwin-style.com