All too often manufacturers are keen to showcase their latest and greatest technology, aimed at wooing buyers into contemplating high-margin SKUs.

Foxconn, which produces almost everything under the sun, needs a broad range of products for all budgets, and isn't afraid to showcase lower-end models at COMPUTEX.

Now, few will know that Foxconn is, by some margin, the world's largest producer of computer chassis. The reason lies with the fact that almost all of the chassis are sold in OEM form, with the likes of Dell using them for its volume-selling ranges.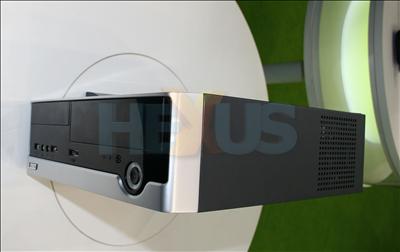 Seeing as Foxconn's no-name customers probably won't be upset by having a few branded chassis available, the multi-billion-dollar company is releasing some interesting models.

The RS233 is designed with the burgeoning Mini-ITX market in mind, and measures 283x95x282mm (wxhxd), making it useful for home-cinema duties.

The outside has the usual high-speed ports, two USB2.0 and one eSATA, and connections for a microphone. We're not entirely sure how the eSATA would be used with a Mini-ITX board inside, however.

Inside, it supports a single 5.25in bay and two 3.5ins bays, as well as an 80mm fan to keep things cool. A TFX-sized PSU, ranging up to 350W can be installed, too.




Build quality was good on the sample we saw and with an estimated retail price of around £35, the RS233 paves the way for a low-cost, small-sized HTPC.

Now if only Foxconn had some Mini-ITX-sized boards......