Corsair has launched the iCue 465X RGB Mid-Tower ATX Smart Case. Those familiar with Corsair's wares won't be surprised that this case majors on RGB LED lighting frills - iCue is the software Corsair uses to control and sync all its RGB hardware and peripherals. To make the most of the RGB lighting from internal components the iCue 465X has 4mm edge-to-edge tempered glass panels on both the left side and the front. Furthermore, triple LL120 RGB fans are supplied to give your PC case maximum RGB frills up front, right from the start.
Since tempered glass is a big thermal barrier, the front panel stands off from the main chassis by 20mm or so. This facilitates a 'direct airflow path' claimed to be "obstruction free" in Corsair's PR material. Dust filters are present front, top and bottom to try and keep your PC clean inside. The triple fans on the front propel air from the front sides, spinning at up to 1,500RPM and exhausted out the back and top of the case.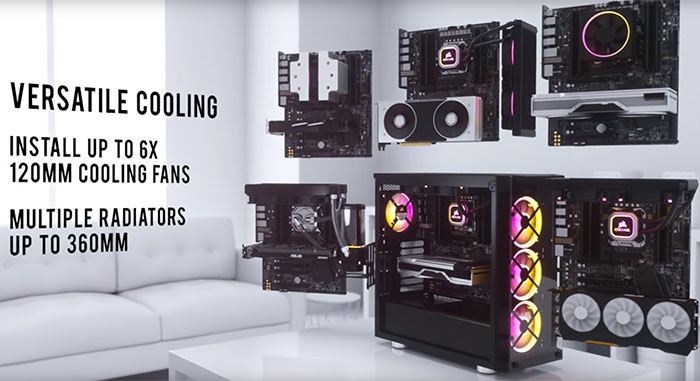 On the topic of airflow, Corsair's design includes "intuitively placed cable routing channels and tie-downs make for simple and tidy cabling that helps optimise airflow". In addition to the three fans included, users can fit a further three 120mm fans or fit multiple radiators up to 360mm long. Compatible Corsair liquid coolers include the H55, H60, H75, H80i, H90, H100i, H105, H110i, H115i, and H150i.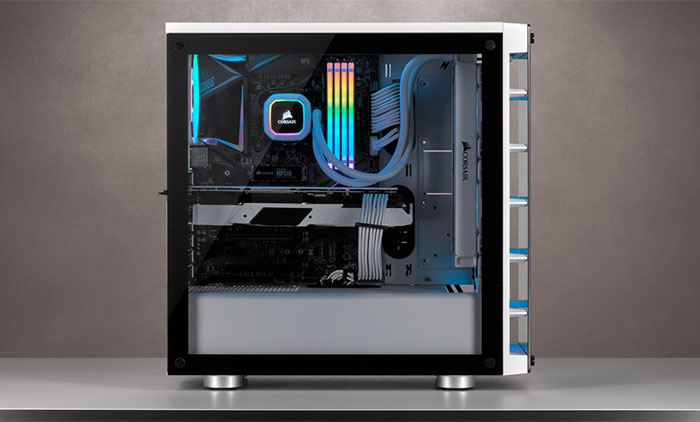 Corsair's the iCue 465X RGB Mid-Tower ATX Smart Case is 467 x 216 x 455mm and can fit your choice of ATX, MicroATX or Mini-ITX motherboard. While you build you will be 'restricted' to GPUs with a max 370mm in length, PSUs up to 180mm long, CPU coolers up to 170mm tall, 7+2 expansion cards, 2x 3.5-inch drives, and 4x 2.5-inch drives.
Lastly, this might be a good case if you want to make an RGB statement with your new build PC. In addition to the supplied triple front fans (with 16 addressable LEDs each), Corsair iCue can sync with other fans, RGB LED light strips, DDR4 memory, keyboards, mice and more. This case is 'Smart' as there are iCue Lighting Node CORE controls for up to 6x RGB fans without the need for a fan hub.
You can buy the Corsair iCue 465X RGB Mid-Tower ATX Smart Case in black or white for £109.99 in the UK.