Every year it is interesting to see what specialist chassis maker In Win will showcase at Computex. This year it doesn't disappoint with the centrepiece of its Computex booth being the new In Win Z-Tower. Another particularly imaginative design on show is the In Win 307 mid tower with configurable and adaptive 'dot matrix' RGB LED front chassis panel.
At the time of writing there isn't a lot of info within the official links to the product pages. I guess In Win is busy writing up and editing full product page details and readying photos, as well as its Computex exhibition, right now. However, it does have an active Twitter feed and Facebook account for various regions and languages.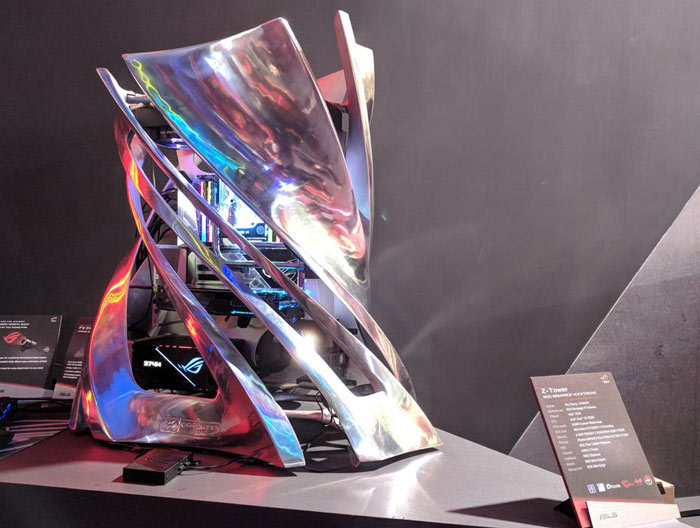 Above you can see the signature design for Computex 2018 that is the In Win Z-Tower. This limited edition chassis is described as "pure, architectural art," based around a geometric helix structure. The 'blades' from which the chassis is constructed are cast from aluminium and carefully polished or blackened, depending on the purchaser choice.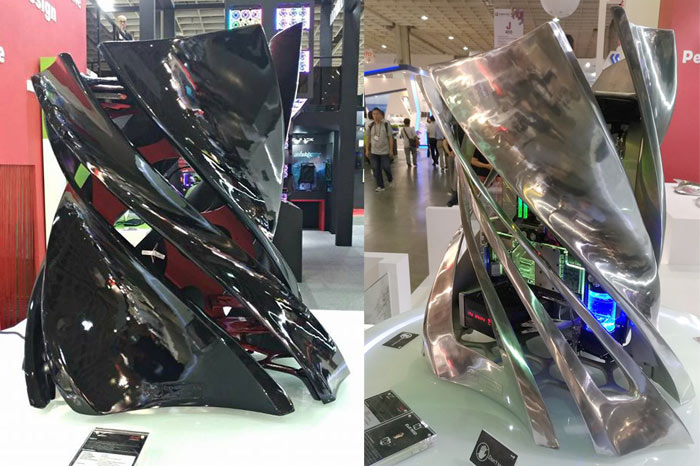 Its construction and materials mean that this is a heavy and expensive beast of a chassis. According to a video shot by Hardware Canucks at Computex, the assembled chassis weighs in at 40kg. The price is even more hefty, at approx $10,000.
A benefit of the clearly visible vents created by the design is good airflow (but bad for dust ingress). As a tip of the hat to practicality, In Win has provided an easy access USB 3.1 Gen 2 Type-C Port. Inside, your build options should be flexible, I can just about make out that the 'silver' system shown is based around an Asus ROG Rampage VI Extreme motherboard, for example.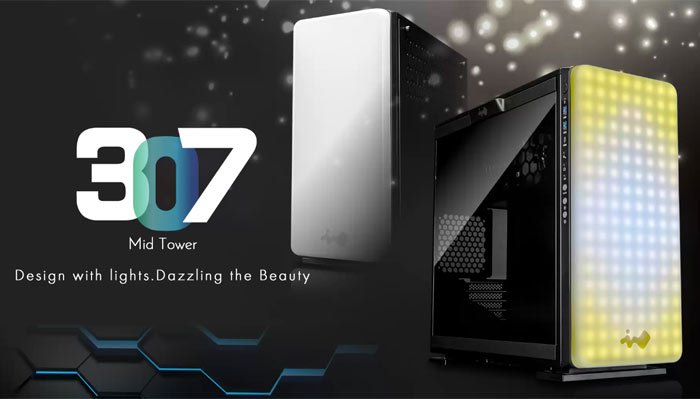 The In Win 307 ATX mid tower is based upon the premium affordable In Win 303 chassis that we have seen in other editions previously. As a USP, the In Win 307 the front panel features 144 RGB LED 'pixels' which can go further than the usual RGB light show. For example the front can show the time, type out messages, and works in 12 modes in total. Customisable effects are available via some new software on the way. The top panel includes a microphone dedicated to listening to the environment and using that data to shape the RGB LED display too.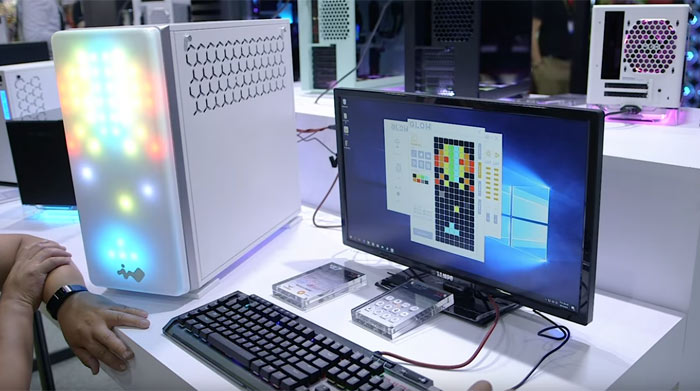 The above In Win 307 chassis is said to come in at approx $300 which is quite a stretch above the $100 In Win 303 mid tower chassis upon which it is based.
Here's In Win's Joyce Teng demonstrating the new Goliath of a case, plus a good look at the 307.