We've seen plenty of reference design AMD Radeon Vega RX 64 graphics cards listed, and noticed stock deplete rapidly. There are a couple brands of reference design still in stock and available here (MSI) and there (PowerColor) at the time of writing but at rather high prices. However, many will be more interested in the second tier Vega offering from AMD and its partners, the Radeon RX Vega 56.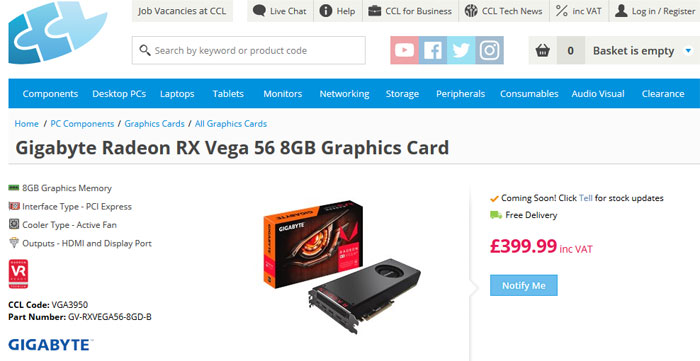 $ilent @OCN dropped me a line yesterday evening to let me know that at least one major UK computer retailer has listed an AMD Radeon RX Vega 56 graphics card. CCL Online claims the Gigabyte Radeon RX Vega 56 8GB is "Coming Soon." It lists the 56 next gen compute unit packing GPU at £399.99 inc VAT with free delivery to UK residents.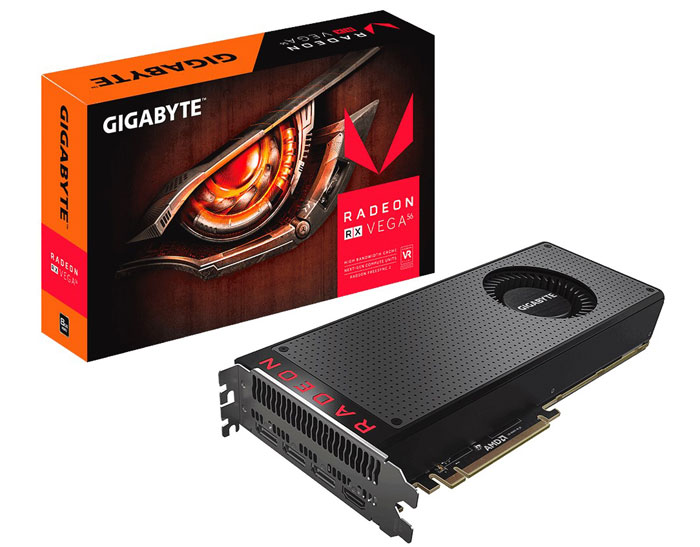 It's a reference model with the blower fan cooler you have seen in the extensive HEXUS review of the Radeon RX Vega 64 and Radeon RX Vega 56. Thus is has the reference GPU and memory clocks, and performance. In our review conclusion we thought that the RX Vega 56 was most promising, especially if priced around its intended £349.99 base line. However, at the time of writing it had yet to appear in retail listings.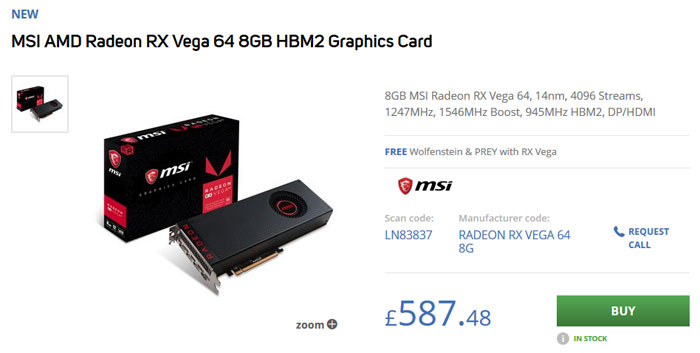 Pricing of the RX Vega ranges, does seem to be an issue, at least in the UK. After some initial batches of Vega 64 cards sold at what seem to have been referred to as 'early sales prices', pricing now makes them much less competitive against the intended Nvidia GPU targets. For example the Nvidia GeForce GTX 1080 has been available recently around the £450 mark. Let's hope this initial price inflation is just some supply and demand wrinkle which will be sorted out soon, especially when third party RX Vega 64 and RX Vega 56 designs start to appear.