Taipei, Taiwan, May 20th 2021 – GIGABYTE Technology, (TWSE: 2376), an industry leader in high-performance servers and workstations, today announced over 30 servers and motherboards that support the new AMD EPYC™ 7003 Series processors. The most extensive portfolio for enterprise products now spans over 70 models of servers and server motherboards specifically designed to excel in demanding workloads with 3rd Gen AMD EPYC processors. Recognizing diverse deployments, the new products target all applications including HPC, virtualization, data analytics, and software defined storage solutions.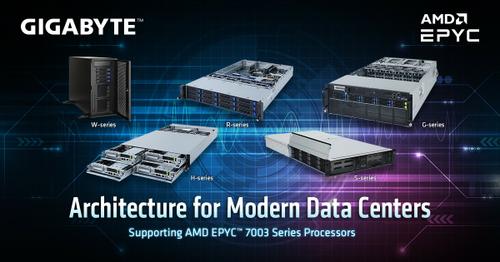 New Servers for AMD EPYC 7003 Series Processors
The general-purpose R Series has added 13 models that address the need for either one or two-socket servers, including new models that support U.2 and 3.5" drives: R162-ZA1, R262-ZA1 and R262-ZA2. In addition to updating two servers to support 3rd Gen EPYC processors, the H Series has created three new models, H282-ZC0, H282-ZC1, and H282-Z60; which all incorporate front loading nodes to deliver eight CPU sockets in a 2U chassis. The G Series has further expanded its coverage to update all servers to support AMD EPYC 7003, including all G482 servers that support up to 10 GPUs. Rounding out the update are a workstation server, two storage servers, an OCP server, and five server motherboards. All servers and server motherboards listed on the table below support 3rd Gen AMD EPYC processors.

R262-ZA2: Multi-purpose Server H282-ZC1: High Density Server
List of New GIGABYTE Products for 3rd Gen AMD EPYC 7003 Processors
R151-Z30, R271-Z00, R271-Z31, R162-ZA1, R262-ZA1, R262-ZA2, R181-Z90,
R181-Z91, R181-Z92, R281-Z91, R281-Z92, R281-Z94, R282-Z96
Remote and Multiple Server Management:

As part of GIGABYTE's value proposition, GIGABYTE provides GIGABYTE Management Console (GMC) for BMC server management via a web browser-based platform. Additionally, GIGABYTE Server Management (GSM) software is available for download on product pages. This software can monitor and manage multiple servers without requiring an additional license fee. GMC and GSM offer great value while reducing TCO and customer maintenance costs.

Learn more about our servers: https://www.gigabyte.com/Enterprise
For further enquiries or assistance, email us directly: server.grp@gigabyte.com
Follow GIGABYTE on Twitter: http://twitter.com/GIGABYTEServer
Follow GIGABYTE on Facebook: https://www.facebook.com/gigabyteserver
AMD, the AMD logo, and other AMD marks are trademarks of Advanced Micro Devices (AMD) or its subsidiaries.