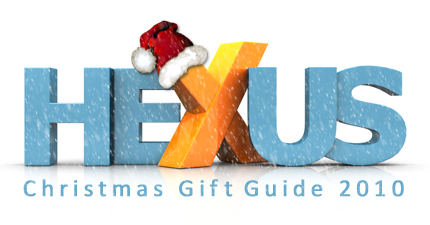 It's that time of year again. The HEXUS editorial team recently attempted a bout of Christmas shopping at Birmingham's Bullring, and the massive crowds coupled with the coldest November temperatures since 1985 have convinced us to realise an obvious truth; it's easier, warmer and more convenient to get your shopping done online.
To that end, the team has put heads together and come up with a series of 10 technology gift guides that we hope will help take the guesswork out of your 2010 Christmas shop. Over the next fortnight, we'll be suggesting a wide range of gear that we ourselves wouldn't mind finding under the tree come December 25th.
The series is now coming to an end, and we'll be wrapping up with a trio of gift guides that put forth component suggestions for self-built base units at three unique budgets; £500 (mid-range), £1,000 (high-end) and £2,000 (extreme).
We've approached these last three guides with a simple question in mind; if we had a set amount to spend on components at Scan Computers*, what system would we build? Sounds easy, but take our word for it, narrowing down to single components isn't easy - we've traded blows, the debate has raged, and though some of the HEXUS team continues to murmur, we've reached an agreement and reckon our configurations are pretty spiffin' at their respective price points.
But as always, there are numerous provisos when putting together a self-built rig. Component pricing fluctuates almost daily, and there's usually new technology just around the corner. Nonetheless, here's our pick of components for an entry-level base unit that's priced at under £500 and designed for web-browsing and multimedia use. Ideal if you're building for mums and dads.
CPU and Graphics

Intel Core i3 540 Processor

Clocked at 3.06GHz, this dual-core, hyper-threaded chip offers plenty of performance at under £85. A TDP of under 73W will ensure it runs cool and quiet, but what's really useful in a budget system is the integration of Intel HD graphics. The built-in GPU won't offer much gaming potential, but it's ideal for viewing multimedia content - be it pictures, web-based video or high-def Blu-ray.

The LGA1156 socket design might be nearing the end of its life, but at this price there are still plenty of reasons to like the current crop of Core i3 chips. And let's face it, if you're building for the mum who can't find the power switch, she's hardly going to be disappointed when you tell her she can't upgrade to Sandy Bridge next month.

Price: £82.19 at scan.co.uk
Motherboard and Memory
Gigabyte GA-H55N-USB3 Motherboard

When it comes to bite-sized Core i3 motherboards, few are as feature packed as Gigabyte's GA-H55N-USB3. Based on Intel's H55 Express chipset, the mini-ITX platform provides dual-channel DDR3 memory slots, a single PCIe x16 expansion slot, and four SATA 3Gbps storage connectors.

There's a generous selection of ports on the board's I/O panel, too, including six USB ports (two 3.0 and four 2.0), HDMI, DVI and VGA out, eSATA, six-way audio jacks and Gigabit Ethernet.

USB 3.0 is a bonus in a budget system, and Gigabyte's powered USB ports allow you to charge peripherals even when the system is turned off.

Price: £78.20 at scan.co.uk


4GB Corsair XMS3 Classic DDR3 1333 Memory

The cost of DDR3 memory has tumbled in recent years, and there's now no reason to have anything less than 4GB in a budget system.

Our chosen Corsair XMS3 kit operates at 1,333MHz with latencies of 9-9-9-24 at just 1.5V.

Price: £42.42 at scan.co.uk
Storage
1TB Samsung Spinpoint HD103SJ Hard Drive

If you think DDR3 memory has become cheap, you'll be gob-smacked at today's hard-disk pricing. With 1TB drives available at around the £40 mark, storage restraints have become a thing of the past. The chosen Samsung drive is cheap, but it features a quick 7,200RPM rotational speed and a 32MB cache.

Price: £41 at scan.co.uk

LG BH10LS30 Blu-ray Writer

A modern-day multimedia PC demands Blu-ray functionality, and a £500 budget is just about enough to allow for a Blu-ray writer. The LG BH10LS30 will let you read and write Blu-ray discs at 10x or standard DVDs at 16x. It's LightScribe-compatible, too, so you'll be able to laser etch those precious Christmas home movies.

Price: £86.93 at scan.co.uk
Chassis and Power Supply
Antec Minuet 350

There's a mammoth selection of chassis available on Scan's virtual shelves, but we found one that stood out for a budget multimedia build; the Antec Minuet 350. Measuring just 9.4cm x 31.9cm x 43.9cm, it's able to support boards measuring up to the mATX standard, and though there's only room for half-height expansion cards, there's ample room for drives in a flip-out cage that's able to hold a 5.25in optical drive and two 3.5in hard drives.

The sleek design is easy on the eye, and the bundled brackets allow it to stand vertically or horizontally. The best bit? It comes equipped with an 80PLUS-certified 350W Antec power supply right out of the box.

Price: £79.20 at scan.co.uk
Operating System
Microsoft Windows 7 Home Premium (64-bit)

Every base unit needs an operating system and our preferred choice is Microsoft's Windows 7 Home Premium.

Our multi-part review explains why 7 is the best Windows yet, and if you're in need of pointers on how to get the most out of the software, you'll find video tutorials, tips and tricks at the Explore Windows website.

Price: £75.28 at scan.co.uk
The suggested build - totalling up to £485.22 to be exact - has plenty of potential for a budget PC and could quite easily become a HTPC with the addition of a TV tuner. But there are hundreds of variables and no single configuration is perfect. Would you change anything? Would you approach a £500 build differently? Let us know and share your own suggestions in the HEXUS.community forums.
HEXUS Christmas Gift Guides 2010
*UK-based HEXUS.community members will benefit from the SCAN2HEXUS Free Shipping initiative, which will save you a further few pounds in addition to top-notch, priority customer service and technical support backed up by the SCANcare@HEXUS forum.