Samsung has officially announced the Galaxy View. This is a large screened Android tablet made, as its name implies, to provide a wonderful content viewing experience. The device's 18.4-inch full HD screen is complemented by Samsung's video-optimised user interface and good battery life to provide a sizeable slab of entertainment on the go.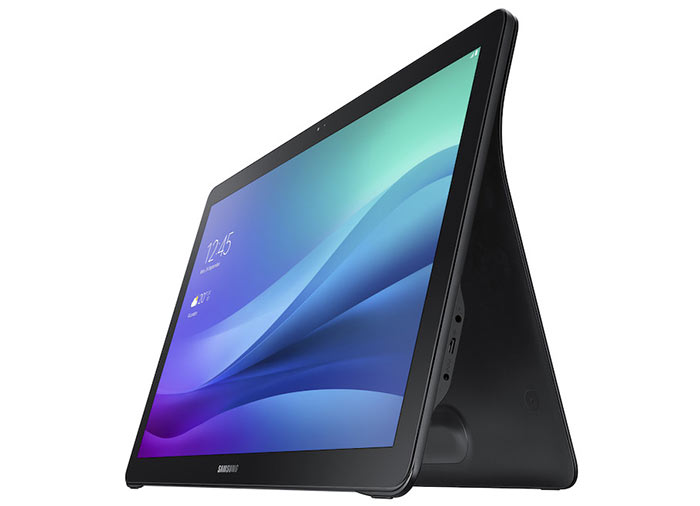 An important part of the experience offered by the Samsung Galaxy View comes from its two-way stand. As you can see from the pictures in this article there is a curved see-sawing back attached to the tablet which makes it easily portable, thanks to the handle and allows it to be angled to view on a table top, looking down, or stood almost upright. The curved stand is also a negative, as it must add some noticeable weight and it will not flatten out – when you want to pack the Galaxy View to put in a suitcase for example.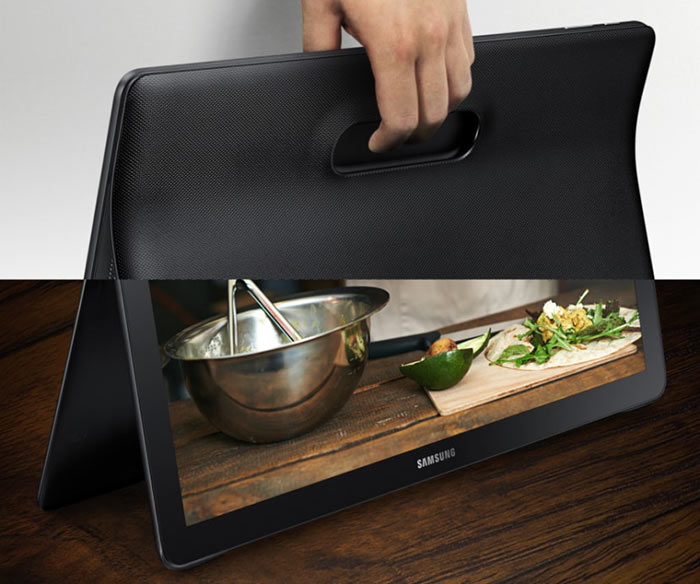 You can see in the picture below, which bullet points the key specifications, that Samsung has loaded a special UI for content consumption. This metro-style grid shows up when you swipe right from the Android home screen and is pre-loaded with lots of media viewing orientated channels. It's quicker to use this dedicated customisable screen than look through the multitude of smaller icon clutter Samsung shows on its 'desktop'. Android 5.1 is installed and Samsung has included its Family Square feature, which provides a customized dashboard that can be connected with friends and family members.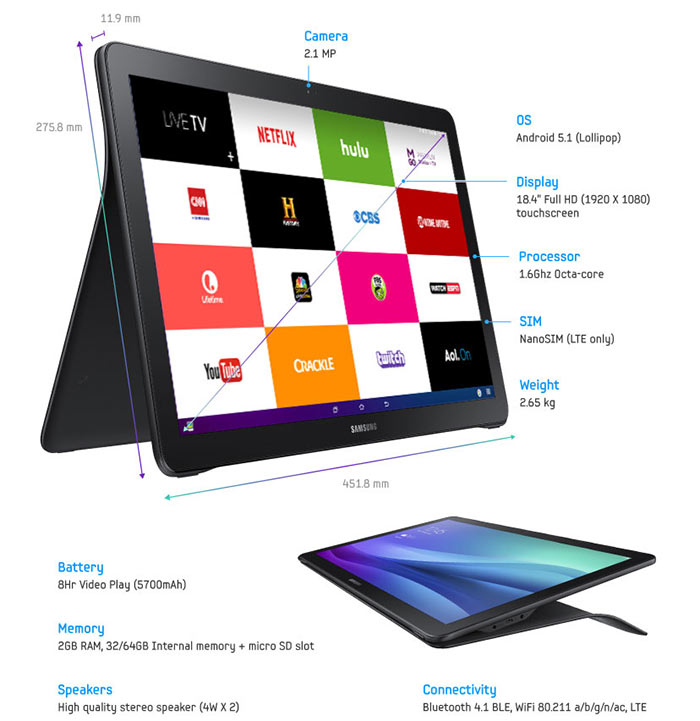 As mentioned in the intro, the Galaxy View is equipped with an 18.4-inch full HD touch screen. Other key specifications of this tablet include; a 1.6GHz Octa Core processor, 2GB of RAM, 32/64Gb of built-in storage plus microSD slot, a 2.1MP front facing camera, twin 4W speakers, Wi-Fi 802.11 a/b/g/n/ac, Bluetooth 4.1 and LTE (microSIM) and a battery which is good for approximately 8 hours. The Galaxy View weighs 2.65Kg and measures 452 x 276 x 11.9mm – but that doesn't include the depth added by the handle/stand.
As noted by Android Police, previous internet leaks put a $599 price tag on a Samsung Galaxy View with 32GB of storage and Wi-Fi only connectivity.