Two new HP devices have been spotted in benchmark results via Android benchmarking tool AnTuTu. Firstly we have seen something called the "HP Slate 21 AiO" listed, secondly an "HP Slatebook 10x2" has also apparently been tested. In the results both new devices list a Tegra 4 SoC among their key system specs. HP recently released its first Android Slate device, the HP Slate 7.
HP Slate 21 AiO
From HP's naming conventions, and it appearing in the AnTuTu benchmarks, this must be a 21-inch Android All-in-One (AiO) computer. Following the uninspiring "me too" HP Slate 7 product this is quite an adventurous departure. The only device of a similar form factor with Android is probably the ASUS Transformer AiO which is an 18.4-inch computer running both Windows and Android OSes.
The HP Slate 21 AiO has scored 23,584 points in the AnTuTu benchmarking tool. The benchmark also reveals that the new HP AiO is equipped with an Nvidia Tegra 4 SoC clocked at 1.8GHz. TheDroidGuy points out that this is "considerably better than all the other high-end Android tabs around" but falls short on Nvidia's claims of a score of 36,000 points and beyond.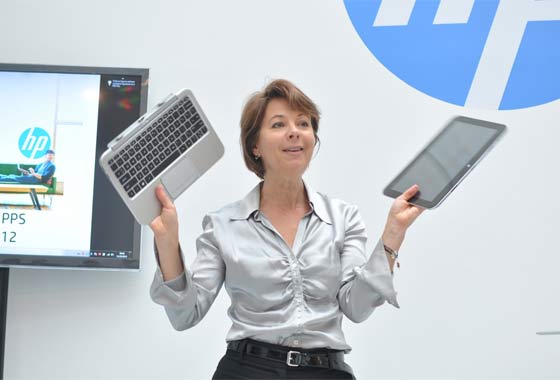 HP Slatebook 10x2
Again, from HP's naming conventions we will expect this to be a 10-inch tablet with a keyboard dock. The x2 denotes the two form factor hybrid, just like the HP Envy x2 Windows convertible (pictured above).
The Slatebook, just like the Slate 21 AiO, appears to be packing a Tegra 4 processor and Android 4.2.1. In the AnTuTu benchmarking tool the HP Slatebook 10x2 outperforms the huge AiO, with a score of 27,259. That's a significant difference but with a prototype device a lot of things are going to be tweaked before release. Nvidia will want Tegra 4 devices to shine when they start to emerge so I wouldn't be surprised if it offers a helping hand to optimise up and coming devices sporting its latest SoC. Interestingly Android Authority reports that only Toshiba and ZTE have officially announced they are using Tegra 4 in their next range of Android devices.