Samsung focussed news organ SamMobile has answers to a lot of the questions regarding the key features and specifications of the upcoming flagship Galaxy S5 smartphone. Thanks to an 'insider' source the Samsung-centric site now can fill us in with confirmed specs detailing the processor, camera and construction of the next big thing from Samsung and also some of the specs of spin-offs like the Galaxy S5 mini and Galaxy S5 Zoom.
Samsung Galaxy S5 in both metal and plastic versions
We all know Samsung isn't afraid of product proliferation, if evidence to back up that statement is needed we also recently heard about a Galaxy Note 3 Lite coming soon. SamMobile's source indicates that there will be both metal and plastic versions of the Galaxy 5S retailing at around 800 Euros and 650 Euros respectively. This is a parallel to the Apple iPhone 5S and 5C, it is suggested, but the Apple phones differ in more than just construction.
Samsung Galaxy S5 specification list from SamMobile
Screen: QHD (2,560×1,440) Super AMOLED display, approx 5.25-inches
Processor: Exynos 6 / Snapdragon 805 processor
Main camera: 16-megapixel camera
OS: Android 4.4 KitKat
Construction: Plastic/metal versions
You can see from the above yet another variable beyond the chassis choice - Exynos 6 or Snapdragon 805 processor. It's not clear which model gets which processor or why, if it will be a geographic decision or vary by chassis. SamMobile notes that the homegrown Exynos is LTE capable so it's not about network support anymore it would seem.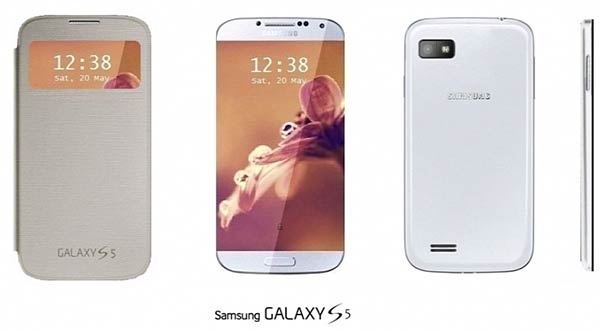 Will the S5 look like this? No curved screen?
The Snapdragon 805 was promoted at the recent CES and a series of videos showing its enhancements made available, particularly its boost to your device's imaging capabilities such as in action shots, object tracking and chroma flash. The new Galaxy S5 will sport a 16MP sensor but it's currently unclear whether it will have OIS.
Samsung Galaxy S5 Mini and Galaxy S5 Zoom
SamMobile also confirmed the upcoming launch of Samsung Galaxy S5 Mini and Galaxy S5 Zoom smartphones. It reports that both devices will have a Super AMOLED display (4.8-inch qHD resolution on the Galaxy S5 Zoom) and come box-fresh with Android 4.4 installed.
The new Galaxy S5 range is expected to be launched in March at an event in London followed by availability in April. I'm sure there will be a fair few leaked images and more detailed specs before that time.