Samsung has released a new teaser video for the Galaxy S4 smartphone. Having viewed the video there's not much to report back other than the screen brightness seems like it can scale very high. Also we have news that Samsung's shares are on the up today following the judge in the AppSung case almost halving the damages payments currently required to be paid to Apple. Finally benchmark results for the Samsung Galaxy S4 have emerged; these results show that it will be powered by the Exynos Octa 5410 processor.
The teaser video
It's just ten days until the Samsung Unpacked event in New York's Times Square. We all know from this new video that we should "be ready 4 the next GALAXY" at that event. Earlier, via an event invite, we were told to be "ready 4 the show, come and meet the next GALAXY".
The video above is "part 1" and we are told it is "to be continued" so we might actually see a little something about what it is in that box before the day.
AppSung damages cut, for now
In August last year a court in California awarded Apple over $1 billion in damages from Samsung due to copyright infringements. Also injunctions were sought to stop the sale of several important Samsung products in the US. Both parties were unhappy with the verdict in their own way. Now it seems like Samsung has had a momentary swing in its favour, as the damages amount payable has been reduced by $450 million.
However the $450 million corresponds to 14 Samsung products which are going to be discussed in a new trial, because of a lack of clarity over how much compensation was needed per product - if the product had infringed a multitude of intellectual property rights. A new jury will have to determine the correct amount of damages Apple should get from Samsung with respect to said products; the answer could be lower or higher but it's unlikely the same as the previous jury.
Benchmarks show the Samsung Galaxy S4 uses an Exynos Octa processor
When we learned about the Unpacked event and the heavy hints about it being primarily for the launch of the new Samsung Galaxy S4 we also heard rumours that the S4 would be powered by the same Qualcomm Snapdragon 600 processor as the HTC One but at a slightly faster clock speed.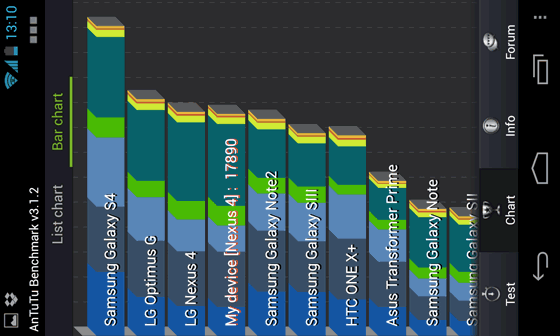 New specification rumours from the SamMobile website have screenshots of what are said to be Antutu benchmark results for the soon to be release Samsung flagship. The benchmarks reveal a smartphone with a Samsung Exynos Octa 5410 processor clocked at 1.8GHz, 2GB of RAM, PowerVR SGX 544MP GPU, Full HD resolution 1920 x 1080 screen and running Android 4.2 Jelly Bean.
When the Galaxy S4 is released it will be interesting to see if Samsung keeps the Galaxy S2 and S3 around and what prices these previous flagships may dip to.