Watches have been disappearing from wrists ever since the advent of mobile phones, all of which seem to have a clock on the front display, though that could be purely coincidental. The Pebble aims to put something more useful on your wrist than a mere clock, something that lets you check your mobile phone even more often than before, so the project might have a good chance of succeeding. At least so think nearly 25,000 investors backing the project with over $3.5 million pledged support at the time of writing.
Alerta, the company behind the Pebble smartwatch, originally put its proposal on the Kickstarter crowdfunding site looking for $100,000 to help bring their product to market. The company already had a modicum of success with their previous watch product – the inPulse, which was a watch companion for Blackberry devices. The new Pebble smartwatch is intended to work with the much more popular and numerous mobiles that run iOS and Android.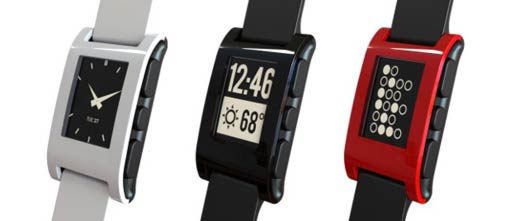 Specs of the Pebble smartwatch:
Compatible with iOS 5 and Android 2.3 or better
7 days battery life
Water resistant
Scratch and shatter resistant
Bluetooth to wirelessly communicate with your smartphone and install watchapps
144 x 168 pixel black and white e-paper display + backlight available
Bluetooth 2.1+ EDR
4 buttons
Vibrating motor
3 axis accelerometer with gesture detection
Fits standard 22mm watch straps
Distribute apps via Pebble watchapp store
Functions, so far, expandable with apps:
Incoming Caller ID
SMS Text display (Android only)
Email (Gmail or any IMAP email account)
Calendar Alerts
Facebook Messages
Twitter
Weather Alerts
Silent vibrating alarm and timer
Displays the time!
Can utilise the GPS in your phone for cycling, running and navigation activities. It will tell you your speed, time, distance covered etc
Golf rangefinder
Control your music player
For Android folk there has already been a smartwatch available from Sony since 2010, the Sony LiveView (now available for £20 in the UK), so the Pebble ($150 when available) isn't anything like a new idea. The Pebble has a number of advantages over the LiveView such as the iOS 5 support, e-paper display and also arguably, styling. Software for the device will be important as this is an area in which the LiveView from Sony earned a bad reputation.
Importantly, the Pebble smartwatch seems to have caught the attention of the media, if only for the way it was discovered. This is something that has worked for other things in the past like Justin Bieber and The Arctic Monkeys! Alerta might have caught the tide at the right time with the right product. Have a look at the video and decide for yourself.