Zap gives us his impressions
Version reviewed - Xbox 360
Reviewer - Zap

Bioshock 2 has one hell of a lot to live up to.The first outing of the series put together an intense experience in an environment untouched by previous titles, paired with a heart pounding and thought provoking storyline. The question is, do 2K deliver?

The game is set in the fictional dystopian city of Rapture circa 1968, eight years after the events of its predecessor. You take control of an early model Big Daddy who reactivates with no recollection of the previous decade. All that's on your mind is your Little Sister, where is she?

Upon awakening in a war ravaged Rapture, it's not long before you get to grips with what's new in terms of gameplay, the ability to dual wield. Oh how I love those words, mmm.. dual wield. Anyhow, in this outing I found myself merrily roaming the halls, one hand full of fire and the other full of face obliterating shotgun, taking out Splicers at will and it felt oh so good.

However, while the gameplay is there I went through the entire story with the feeling that something's missing. I listened to every single recording, I explored every inch of Rapture and just couldn't recapture the sense of satisfaction I had with the first. I pushed forward in hope but as the storyline unfolded it just felt more of a let down, lacking the plot twisted philosophical craziness of the first.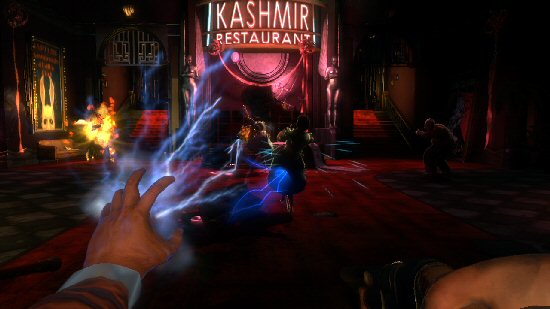 I kept exploring the damp ravaged outcrops of Rapture, all in hope to stumble across something to give me a fright and a need to change my underwear but there was just nothing. Ok so yeah, maybe when you know there's a Big Sister on her way the adrenalin sets in but that's as far as it got. I was left missing the scary, intense and shocking moments that lept out at me on my journey through the under water city, for instance in the morgue and with the mannequins.. you fans know what I'm talking about, those moments of sheer wtf? and ARGH!

While Bioshock 2 borrows the solid gameplay, atmosphere and different approaches to combat it fails to provide the powerful narrative and shock that made the original what we know and love.

Score - 8/10.

Average User Score: 8/10

If you'd like to contribute to HEXUS.gaming and have a short review of your own published then please visit this forum. Read the rules, check to see whether the game you want to review is included in the list and then simply write it up on the forums. You'll have to be a registered user to join in, but it only takes a minute to join.

We're still accepting reviews for Bioshock 2, which will be added to this article.