Key-By-Key Illumination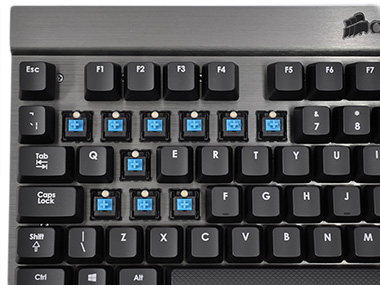 Whichever model you choose, you can look forward to backlit keys with per-key programmability, through which you can illuminate/highlight a specific set of keys. Four brightness levels are available - and they're needed as maximum brightness is far too strong to live with - and Corsair has managed to keep software out of the equation.
Instead, you can toggle all the lights on/off using a dedicated button, and by holding the backlight customisation key for a couple of seconds, you can choose which keys to illuminate simply by pressing them. Light bindings are saved to on-board memory so you needn't worry about losing your settings, and on the whole the backlight system works well.
Our only reservation is one that's common with all mechanical keyboards: the individual LEDs are placed above the Cherry MX switches, resulting in uneven illumination across the entire key. Corsair has used an obvious workaround - letters are simply positioned higher on the keys - but a better solution is now just around the corner.
Contoured Gaming
There's no software configuration to speak of, so Corsair continues to rely on hardware customisation. Chief among these are the bundled contoured and textured keycaps for WASD and 1-6.
The 10 optional keycaps are easy to install using the provided keycap replacement tool, and as was the case with the K60, the idea is that the extra definition will make it easier to locate the all-important WASD keys.
In our experience, the concept works well when gaming, and we like the fact that Corsair has done away with the rubberised top for a plastic keycap that's more in keeping with the rest of the board.
The textured top still provides plenty of definition, but the keys now feel more familiar. It's good news for gamers, but if, like us, you also do a lot of typing, the contoured keys may prove to be a nuisance: we don't enjoy typing with them installed, and rather than chop-and-change on a regular basis, we've ultimately resorted to not using them at all.
Summary
Corsair can be applauded for listening to consumer feedback and delivering a product that caters to the needs of gamers. Building on the strengths of the original K60, the upgraded Vengeance K70 raises the bar with a full mechanical layout, a choice of Cherry MX switches and key-by-key backlighting.
Solid build quality, great looks and dedicated multimedia controls all add to the appeal, yet while there are clear improvements, we haven't quite reached mechanical perfection. Corsair has refrained from adding programmable macro keys - they're reserved for the top-of-the-line Vengeance K95 - and the USB passthrough functionality hasn't been upgraded to SuperSpeed 3.0.
Minor niggles remain, but really, anyone in the market for a high-end mechanical keyboard should be giving the Vengeance K70 some serious consideration.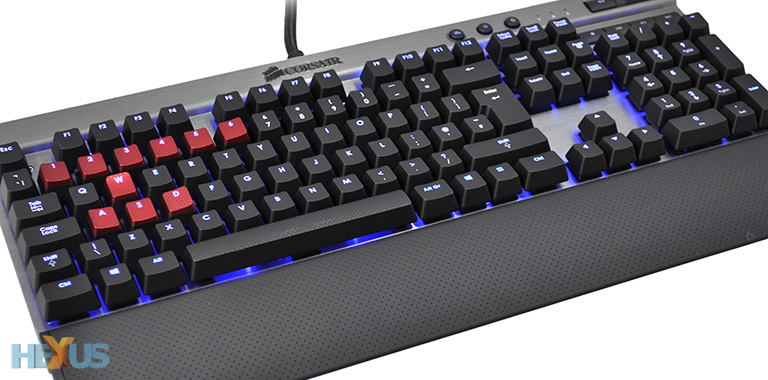 The Good
Available with a choice of switches
Key-by-key backlighting
Sturdy aluminium top plate
Good multimedia controls
Comfortable full-size palm rest
No software required
Looks great
The Bad
USB passthrough isn't SuperSpeed
Lacks programmable macro keys
HEXUS.awards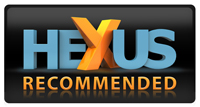 Corsair Vengeance K70
HEXUS.where2buy
The Corsair Vengeance K70 mechanical gaming keyboard is available to purchase from Scan Computers*.
HEXUS.right2reply
At HEXUS, we invite the companies whose products we test to comment on our articles. If any company representatives for the products reviewed choose to respond, we'll publish their commentary here verbatim.