Back With A Vengeance
It's been a while since we let our fingers loose on Corsair's original FPS gaming keyboard, the Vengeance K60, but ever since, we've been eager to get our hands on a second-generation successor.
You see, the company's first effort had its merits - the sturdy and beautiful aluminium frame being top of the list - but there was obvious room for improvement. Reviewers and users alike lamented the lack of a full mechanical layout (the function keys, remember, were of the rubber-dome variety), and some were put off by the absence of backlit keys.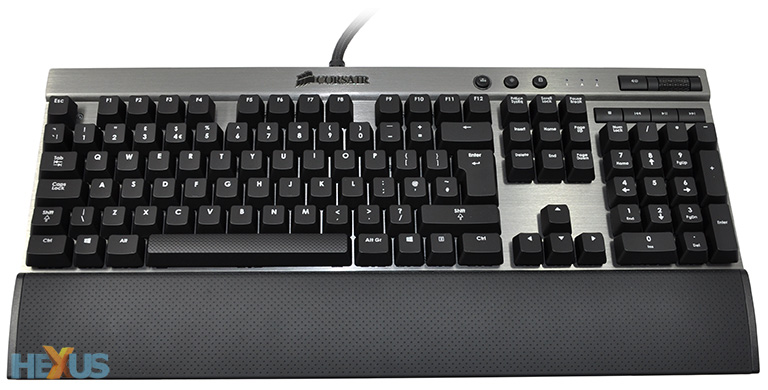 The good news for anyone revisiting mechanical gaming keyboards is that Corsair appears to have listened to the masses and corrected some of those perceived wrongs with the new-and-improved Vengeance K70.
Priced from £100, the K70 is a 'fully' mechanical keyboard that retains the charm of its predecessor while offering a handful of new upgrades that include a choice of colour schemes, individually backlit keys, and a variety of Cherry MX switches.
Out of all the enhancements, you could argue that greater choice is the K70's biggest strength. Unlike the K60, which only came in Grey with Cherry MX Red switches, the K70 is available in one of four flavours; Black with Cherry MX Red; Grey with Cherry MX Brown; Grey with Cherry MX Red; or Grey with Cherry MX Blue. It's the latter that's under the spotlight today.
Design
For the most part, Corsair has chosen to stick with the aesthetic design that gave the K60 such a bold, striking appearance. And that's no bad thing - the K70 still looks and feels great. Granted, the aesthetics won't be for everyone - particularly those who prefer gaming keyboards that are of the ostentatious variety - but we appreciate the fact that Corsair's board comes across as serious as sophisticated.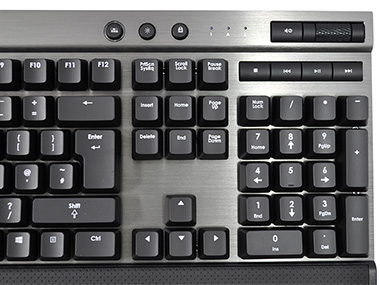 Such words aren't usually used to describe gaming peripherals, but Corsair has managed to achieve a premium look by employing an aluminium top plate that provides excellent rigidity and a quality feel. There's no unwanted flex and the entire unit feels well put together - we reckon you'd do well to run into wear and tear problems anytime soon, irrespective of how furiously you button mash.
And, of course, being built around the K60's foundation has obvious benefits in that the K70 already offers the sort of features you'd expect from a mechanical keyboard, such as anti-ghosting and n-key rollover.
Key layout remains unchanged and we're glad to see that the K60's dedicated Windows-key lock and media controls have been carried over - they're simple and work well, with the volume scroll wheel being a particular highlight.
Underneath the board, the K70 offers a quartet of anti-slip rubber contacts, as well as four plastic standoffs for adjustable front and rear tilt. The braided USB cable is a good length and branches off to two connectors; the first used to power the keyboard itself, while the second facilitates USB passthrough, allowing gamers to attach a peripheral to the spare USB port located on the back of the keyboard. Handy functionality to have, but it's a shame the passthrough wasn't upgraded to SuperSpeed USB 3.0.
What's New?
Here's where K60 owners should look away, as while your keyboard is good, the K70 introduces a handful of new tricks that make it genuinely better.
The first thing you'll notice is that there's now a full-length detachable palm rest. The soft-touch coating makes it comfortable to use, but do be aware the palm rest only comes in black - it still looks good attached to the grey keyboard, but we reckon it'd be an even better match for the black model. It's interesting to note that mounting points for the K60 wrist rest are still integrated into the keyboard's chassis; if you're particularly fond of that accessory, you can purchase it separately.
In order to circumvent any system-level compatibility issues, Corsair has also added an option to change the keyboard's polling rate as well as a specific 'BIOS' mode that enables the K70 to act as a standard 108-key peripheral for use with legacy BIOS interfaces on older machines. These changes are controlled via a small switch on the back, and while most users won't need to stray from the default 1ms setting (1,000hz), the flexibility could be a boon for KVM users.
Red, Brown or Blue
Next, let's talk key switches. As we know, the K70 is now fully mechanical, so yes, everything other than the multimedia shortcuts is backed by a Cherry MX switch. Only, this time around, you aren't limited to Cherry MX Reds.
At the time of writing, Corsair has made available Red, Brown and Blue flavours, and there are subtle-yet-significant differences between the options. Red switches are considered ideal for gaming due to their linear design and lack of tactile feedback; Brown switches offer light tactile feedback, making them better suited to a mix of typing and gaming; and Blue switches offer tactile feedback as well as an audible click, which is ideal for serious typists.
Yet, key switches are and always will be a personal preference, so our advice is to try before you buy. That means tracking down mechanical keyboards in stores, or getting hold of a Cherry MX sampler kit.
Making the key-switch decision all the more interesting, there are a few other considerations to weigh-up, too. For starters, Corsair offers the Cherry MX Reds in two finishes: black anodized with red LED backlighting, or a silver finish with blue LEDs. The Brown and Blue key-switch varieties are only available on the silver board and, more importantly, here's the real talking point for UK shoppers: a black K70 with Red switches is currently £100, while each grey model fetches £120. The price difference alone should have would-be buyers leaning toward the red-on-black combination, as the others are positioned far too close to the £130 Vengeance K95.