A Keyboard For Casual Gamers?
Mechanical keyboards are all the rage among enthusiast gamers, and you can understand the reasons why. Independent spring-based mechanisms, multi-key rollover, long-term durability and a distinct actuation point are just some of the highlights, and of course, mechanical switches come in a variety of flavours designed to suit your particular needs.
There is a catch, though. Mechanical keyboards are typically expensive - we're talking more than £100 for a high-end gaming model - and, while fans will accept nothing less, it's worth noting that mechanical keyboards aren't for everyone. Users who are accustomed to membrane boards may find mechanical alternatives to be too loud, too clunky, too big and, well, difficult to get to grips with.
If that sounds like you, you may want to consider Gigabyte's latest offering, the Force K7.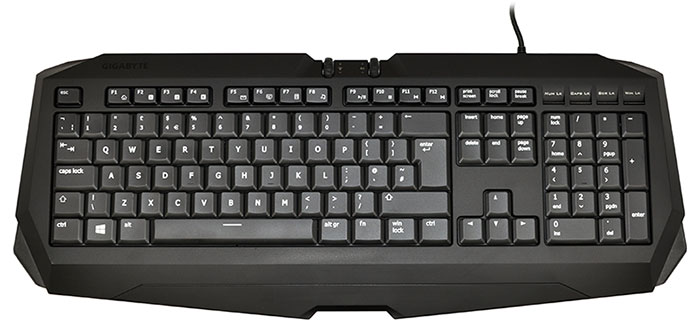 Priced at around £33 and described as a "Stealth Gaming Keyboard," the Force K7 is designed, it seems, for casual gamers who are looking for a comfortable everyday keyboard equipped with a handful of a gamer-specific features.
Design
On paper, the Force K7 fits the bill. Gigabyte's board is sleek and attractive, with angled trimmings providing a gamer look and feel without stepping into ostentatious territory. The design is reasonably subtle - allowing the Force K7 to fit in at the office or the LAN party - and at 480mm x 195mm x 27mm in size, it isn't anywhere near as bulky as some of the mechanical options.
Aesthetically, we quite like it, and if you're accustomed to typing on laptops, you should feel right at home as Gigabyte is using a scissor-switch membrane that's common among portable PCs.

Membrane, scissor-switch and mechanical may all sound a bit foreign to some readers, so here's a quick refresh. Mechanical keyboards feature a switch beneath each individual key, making them relatively expensive to produce. In contrast, membrane keyboards are typically more affordable and utilise multiple board-encompassing membrane layers. When squeezed, the layers touch to complete an electrical circuit and the key press is registered. Membrane designs commonly use rubber domes beneath the keys, but the plastic scissor-switch mechanism is an improvement that offers greater durability and shorter key travel.
Gigabyte measures the Force K7's key travel at just 3mm, and the short distance has the desired effect: it does a good job of masking the mushiness you come to expect from membrane boards, and of course, it enables the slim overall design.
Adding to the appeal, Gigabyte has backlit the board with three switchable colour options - blue, green and cyan. Clicking the left-hand scrollwheel at the top of the board toggles between on/off/colour, while scrolling adjusts brightness. The right-hand wheel, meanwhile, controls volume in a similar way; clicking will enable/disable mute, and scrolling adjusts volume.
The Finer Details
The board looks inviting, and in use, it feels a bit like a ThinkPad keyboard, which is definitely a good thing. Unfortunately, after closer inspection and prolonged use, you begin to discover some of the Force K7's foibles. One of the first things you'll notice is that the lock-key status LEDs, positioned above the numpad, are unusually bright and can prove distracting.
We've found issue with the keyboard backlighting, too. While we're staunch advocates of backlit panels, Gigabyte's implementation isn't ideal - as you're typically sat in front of the keyboard, you can see beneath certain keys, resulting in hot-spots of light and uneven illumination.
It's the attention to detail that's generally lacking. The "extended" palm rest is too short to matter, the key typeface is too bold for our liking, and confounding matters, the lettering isn't always centred. Finish quality may vary between batches, but on our review sample, the letter P is visibly lower than neighbouring O, and M is a little way off centre.
Our biggest gripe, however, is with dead spots in the backspace key. Despite appearing nice and wide, the backspace key doesn't register when hit to the left or right - you have to meet it right in the middle, which is vexing when you're attempting to type and correct errors at speed.
There are a few niggling issues detracting from the overall experience, which is a shame, really, as save for the backspace key, the Force K7 is enjoyable to type on; the keys have the right amount of spring to them and in use it's really nice and quiet. Furthermore, if you're leaning toward this board for your gaming needs, there are a couple of helpful features worth knowing about.
Added Extras
As with any good gaming keyboard, the Windows Start key can be disabled via a dedicated WinLock shortcut so you needn't worry about accidentally dropping out of your game. And if you're playing something that requires a particular amount of button mashing, you'll be pleased to hear that Gigabyte has added anti-ghosting capability to the WASD cluster. Up to seven simultaneous key-presses are supported, though that is restricted to the Q, W, A, S, D, left shift and space keys; arrow-key gamers are out of luck.
Elsewhere, a long 1.8m nylon-braided USB cord attaches to your PC, and adjustable rubber feet on the bottom of the keyboard help prevent it from slipping when in use.
What's handy is that the keyboard requires no additional software or drivers - it is entirely plug and play - but that brings with it another proviso; you'll either like Gigabyte's multimedia shortcuts or you won't.
Spread across the function keys, the shortcuts are activated in unison with the Fn key - there's no permanent toggle - and provide quick access to various programs and websites. These include web browser, Google, Facebook, Twitter, Hotmail, Task Manager, Calculator and Media Player, as well as four common multimedia shortcuts; play, stop, previous track and next track. The shortcuts work well enough, but Gigabyte's implementation is crude - press the Google shortcut for example (Fn+F2) and you kick start a macro that brings up the Windows Run dialogue and enters www.google.com.
Conclusion
We can see what Gigabyte was trying to achieve with the Force K7, but the keyboard hasn't quite lived up to its billing. With a scissor-key membrane, short key travel and full backlighting, users should be rewarded with an enjoyable everyday typing experience. A few quirks prevent that from happening - including overly bright status LEDs and inflexible multimedia shortcuts - but the real deal-breaker here is the frequently unresponsive backspace key.
We like the idea of a comfortable scissor-key membrane board that doubles as a casual gaming peripheral, however the Force K7 isn't yet the finished article. Gigabyte has the right idea, but we urge the company to addresses these issues in a v2 release. Should it right some of the wrongs, this could eventually become the affordable all-rounder it's meant to be.
The Good
Quiet in use
Simple slim design
No software required
Short, comfortable key travel
Dedicated Windows Start key lock
Quick volume and backlight adjustment
The Bad
Multimedia shortcuts can't be customised
Unlikely to appeal to hardcore gamers
Lock-key lights are very bright
Dead spots in backspace key
HEXUS.where2buy
The Gigabyte Force K7 keyboard is available to purchase from Scan Computers*.
HEXUS.right2reply
At HEXUS, we invite the companies whose products we test to comment on our articles. If any company representatives for the products reviewed choose to respond, we'll publish their commentary here verbatim.