EA and Spielberg's puzzling kid's gam
We're currently experiencing a quiet period in the gaming calendar with many publishers holding onto their AAA titles until the summer, but this week there is one title that stands out.

Boom Blox is the EA/Steven Spielberg collaboration for Wii , comes under the company's casual games label and is billed as a "fun for all the family".

At first glance, Boom Blox, looks a bit like Jenga, but we're assured it will be a high-energy game featuring over three hundred levels, a variety of activities, a cast of over thirty wacky characters, and an easy-to-use in-game editor that allows players to express their creativity.

With Wii-mote interactivity and numerous cutesy characters, including the likes of Blox-laying chickens and baseball throwing monkeys it could well be a hit with the kids.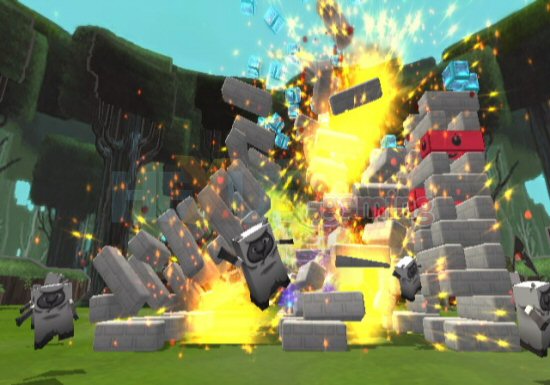 They'll also be co-op modes and editing modes allowing users to create their own levels and share them with friends via WiiConnect 24.

We have a full review of Boom Blox coming shortly.

Other releases this week include Dragon Quest Swords: The Masked Queen and the Tower of Mirrors and Speed Racer for Wii and Apollo Justice: Ace Attorney for Nintendo DS.