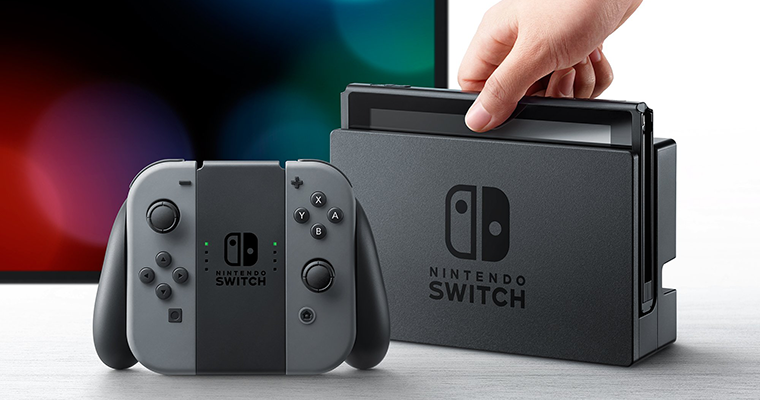 The cat is finally out of the bag. Nintendo's next major games console, Switch, will launch worldwide on March 3rd at a cost of £279 in the UK or $299 in the US.
Pre-orders are now open and the default bundle will include "the main console, Joy-Con (L) and Joy-Con (R) controllers, a Joy-Con grip (to which two Joy-Con are attached and used as one controller), a set of Joy-Con wrist straps, a Nintendo Switch dock (which holds the main console and connects it to a TV), an HDMI cable and an AC adapter."
An assortment of paraphernalia, but then, this is the first games console to promise "a full home-console experience anytime, anywhere." Switch isn't short on intrigue, however the details made available at Nintendo's event earlier today have elicited a mixed response.
There are concerns over the asking price, which happens to be greater than that of an Xbox One or PlayStation 4, and gamers have reacted negatively to the cost of certain Switch accessories. A further set of Joy-Con controllers will fetch $79.99, while a more traditional Pro Controller will be priced at $69.99.
Nintendo has revealed little in terms of underlying hardware, though we do know that Switch carries a 6.2in 720p display and 32GB of internal storage (expandable by SD card) while that battery life is estimated at between 2.5 and 6.5 hours depending on game.
The are also plans to introduce a premium subscription service for online multiplayer in the Autumn, but on the plus side, Switch will be region free, it charges via convenient USB Type-C, and being a Nintendo device it's surely going to be served by a range of fantastic games.
Plenty of food for thought, so let's gauge your initial reaction by asking: will you be buying a Nintendo Switch? Share your thoughts using the comments facility below.