Yesterday a slew of new information regarding Deux Ex came to light and thoughtfully the developers have published a series of YouTube videos covering the highlights. First of all there was a gameplay demo published, something gamers always appreciate ahead of a major release. Secondly we got to see an innovative and expansive new game mode called Breach. The other major new announcement is evidenced by the Deus Ex GO reveal trailer.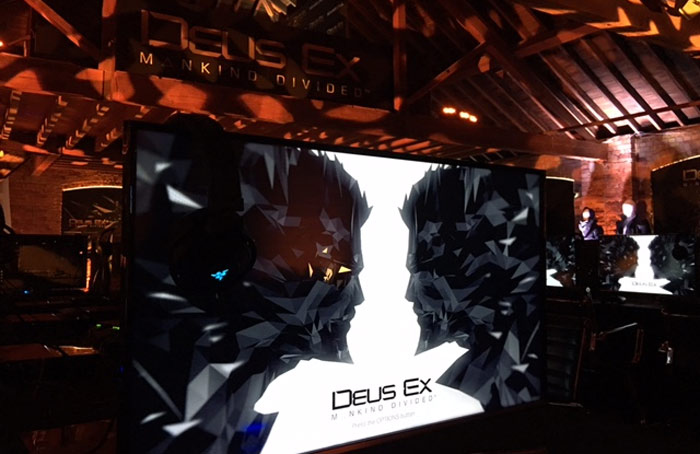 Gameplay demo
This 17 minute plus video is set in the city of Prague. The video starts with Adam Jensen waking up in his apartment feeling in pretty bad shape and needing to fix up some of his augmentations. The day before he had been caught up in a terrorist attack on a train station that must have been a bit tough and strenuous. Adam ventures out into a poor part of the city to see Vaclav Koller, an underground augmentation specialist, to help get back into good shape.
Breach - reveal trailer
Breach is an innovative game mode which is included for free with the main game. It could be described as an arcade mode for Deus Ex. In this game you are not Adam Jensen and not in a 'real world' but a hacker navigating through systems. Strangely, the interface by which you infiltrate systems is like a stylised distinctly polygonal reworked Deus Ex game. Being set in some kind of imagined virtual/augmented reality, the surroundings and physics don't always behave as you would expect so the puzzles can be far more abstract.
In the Breach game there are around 75 levels provided to start with, based upon some of the corporations in Deus Ex. A typical level sees the player search and find a target, then extract data before rushing out of the level within a time limit. The levels will appeal to a variety of players including those who like to stay stealthy and even speedrunners.
Deus Ex: Mankind Divided is coming on 23rd August 2016 on PC, PS4 and Xbox One.
Deus Ex GO
Many of you will be aware of previous 'GO' versions of Eidos games such as Hitman GO and Lara Croft GO. Soon fans of these turn-based mobile games will be able to enjoy Deus Ex GO. In the game you will be using hacking, combat, and augmentations to solve what are said to be "the most challenging puzzles" of any GO game thus far.
As a reveal trailer you don't get to see much in the video, above. However the video description text says that you will get help in your challenges from allies TF29 and the Juggernaut in your quests. This game is due to arrive on mobiles and tablets later this summer.
Affordable and fashionable bionic hands?
Here's an interesting project. Alongside the games outlined above there's a real-world collaboration between Open Bionics, Eidos-Montréal and Razer to bring Deus Ex inspired augmentations to life. The three companies are designing with the aim of bridging fantasy and reality "working together to design, 3D print, scan, power, and create affordable bionic hands."
An Adam Jensen arm prototype in the video looks great but is said to be only semi functional at this time. The initiative is part of a movement which is making such prosthetics more affordable, fashionable, and even beautiful.