Bethesda has published the PC system requirements and a new launch trailer for DOOM, as the game is just a week away from becoming available. Inviting gamers to "get ready to fight like hell", Bethesda also detailed DOOM's preload times, and precise unlock times, for PC/Steam, PS4 and Xbox One players.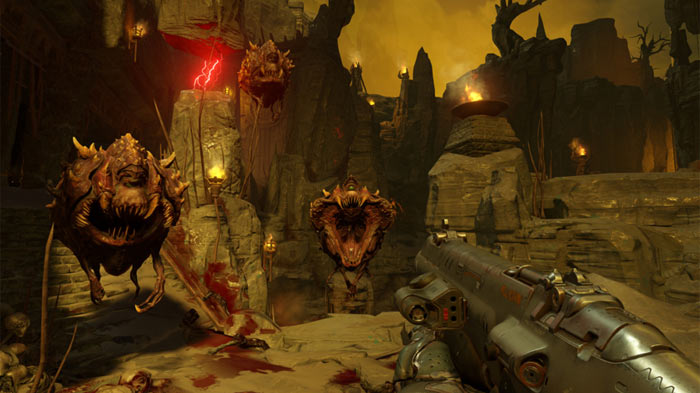 DOOM launches on the above platforms worldwide on Friday 13th May. PC users can start to pre-load the game via Steam from 12am ET on 11th May. The regional time-zone dependent roll out unlock and server launch times for PC are as follows:
Australia/New Zealand @ 12 am AEST
North America @ 12 am ET
Europe @ 12 am GMT +1
Japan/South Korea/Rest of Asia – 12 am Japan
PC systems requirements are provided for PCs with the usual minimum and recommended spec lists giving you a feel for a comfortable game-ready spec. Those requirements are as follows:
Minimum

Recommended

Windows 7/8.1/10 (64-bit versions); Intel Core i5-2400/AMD FX-8320 or better;
8GB RAM; 55GB free HDD space; NVIDIA GTX 670 2GB/AMD Radeon HD 7870 2GB or better

Windows 7/8.1/10 (64-bit versions); Intel Core i7-3770/AMD FX-8350 or better;
8GB RAM; 55GB free HDD space; NVIDIA GTX 970 4GB/AMD Radeon R9 290 4GB or better
If you get the disc version of the PC game you will still be required to download 45GB of data to run the game, says Bethesda. Furthermore, it is a requirement to have an internet connection for activation, multiplayer and SnapMap. Bethesda suggests that those who wish to play DOOM from day one check back on its blog for AMD and Nvidia game ready driver releases, just ahead of next Friday.
Above is the new launch trailer which urges DOOM fans to buy the new game and "fight like hell". Bethesda already has 3x DLC packs planned for this £39.99 game. Each DLC pack will cost $14.99 (£11.99) and the 3xDLC season pass, costs $39.99 (£29.99). The first DLC pack will launch this summer. If you are really keen and confident you can pre-purchase DOOM via Steam and get Wolfenstein: The Old Blood for free.