Square Enix has published a new trailer for Hitman. The episodic reboot of this assassinations-based game will launch tomorrow and if you can't wait, or want a little taste to whet your appetite, the publishers have released an interactive 4K, 360-degree Hitman trailer. If you are purchasing Hitman online, distributors such as Steam are allowing pre-loading now (with 1 day and 7 hours left until the game unlocks, at the time of writing).
In the video above you can see, via our central character's viewpoint, the Paris fashion show event where the first episode of the game is set. As the film rolls you can simply enjoy the 4K visuals and / or pan with the on screen cursors at the top left or, more intuitively, click and drag around the scene as you move through it. Amusingly the Hitman seems to not just be present at the fashion show for a 'hit' but also as one of the catwalk models. Obviously that's great cover for the assassination.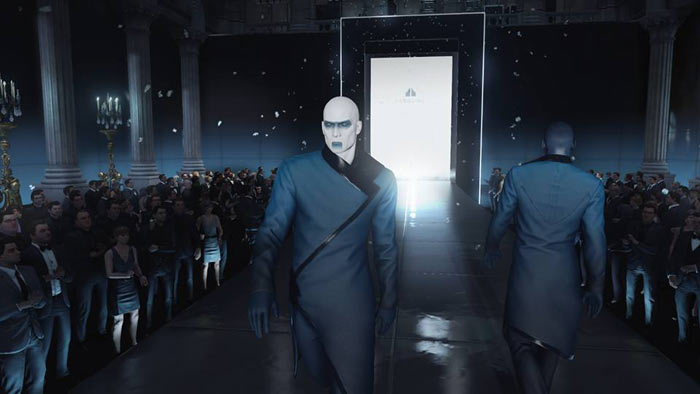 As a reminder, Hitman will debut as a 'fully episodic' title to which Square Enix will also introduce 'live' time-limited elements. The episodic content works as follows:
On 11th March Hitman will be sold in its initial launch form. It will include a prologue and the first episode of the game, set in Paris.
In April an episode set in Italy will be published.
A Moroccan episode will be released in May.
Another three location-based episodes are planned, with Agent 47 travelling to Thailand, the US and finally to Japan.
The initial release will cost $15 (£10.99) but subsequent episodes are cheaper, at only $9.99. There is a 'full experience' version available, a kind of season pass, for an outlay of $59.99 (£39.99) for those who are confident of the ongoing value/appeal on offer.

Live content is interesting with elusive targets entering the game world, never to return. Square Enix is also introducing 'escalation mode', 'contracts mode', and 'live challenges' as part of its live content based activities for Hitman players. What happens with the game and such content a couple of years later? It might sound good to have live content for now - but if I like a game I often play it for years so would be put off by any potential 'reverse feature creep'.