Nvidia has announced a new Game Like A Boss bundle for buyers of its latest graphics cards and laptops equipped with its newest GPUs. Metal Gear Solid V: The Phantom Pain is now being bundled with selected GPUs and laptops bought from qualifying outlets.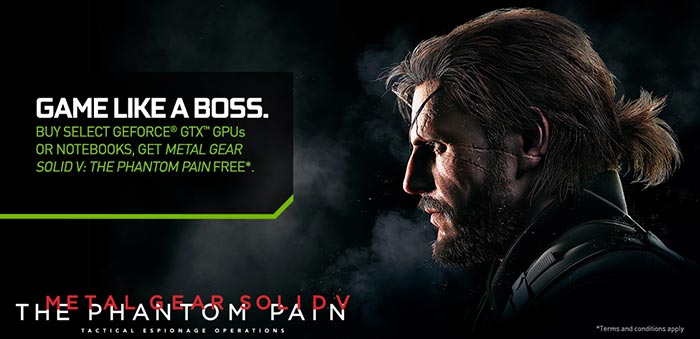 In a blog post Nvidia crows about how the new Metal Gear Solid game on PC will "benefit greatly from the performance and features of GeForce GTX GPUs". We are told that GeForce GTX GPU owners will enjoy more detailed graphics, higher-quality effects, extended view distances, significantly higher rendering resolutions, NVIDIA Dynamic Super Resolution support, NVIDIA SHIELD GameStream support, NVIDIA ShadowPlay gameplay capture, NVIDIA SLI support, and "one-click optimal playable settings courtesy of GeForce Experience". Also Nvidia will be glad to replace the Batman: Arkham Knight game, offered in its Spring bundle.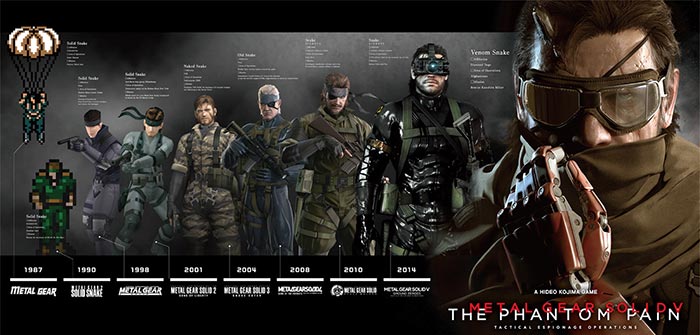 Back in December Nvidia published a blog post about how it had worked with Konami on the Phantom Pain prologue, entitled Metal Gear Solid V: Ground Zeroes, to enhance graphics and performance. That post goes into details about how the Fox Engine was refined on the PC with advanced cinematic effects providing Depth of Field fidelity and realistic Bokeh effects on PC. However, these are not Nvidia GameWorks games.
To qualify for the new Metal Gear Solid V: The Phantom Pain bundle offer you must purchase one of the following graphics cards or systems with one of these cards installed:
GeForce GTX 980 Ti
GeForce GTX 980
GeForce GTX 970
GeForce GTX 960
GeForce GTX 980M and 970M notebooks
Readers should note that absent from the above list, but still current Nvidia hardware products in retail, include the GeForce GTX Titan X, the GeForce GTX 750/750Ti and laptops featuring GeForce GTX 965M/800M Series GPUs.
The free game digital download code offer is limited until 1st September 2015, or while supplies last. To avoid disappointment please make sure your chosen retailer is participating in the promotion. China is excluded from the offer. Metal Gear Solid V: The Phantom Pain is scheduled to launch on 15th September and should pre-load in your Steam account, ready for that date.