As previously announced, the first-ever Bethesda E3 Showcase took place last night at the Dolby Theatre in Hollywood. The games developer showcased a new DOOM trailer, Dishonoured 2 and Dishonored: Definitive Edition, The Elder Scrolls: Legends, The Elder Scrolls Online: Tamriel Unlimited, Battlecry, and a new website called Bethesda.net. However, the headlining presentation of the show, saved until last, was the information about Fallout 4, the Fallout 4 Pip-Boy Edition and immediate release of the free Fallout Shelter game for iOS.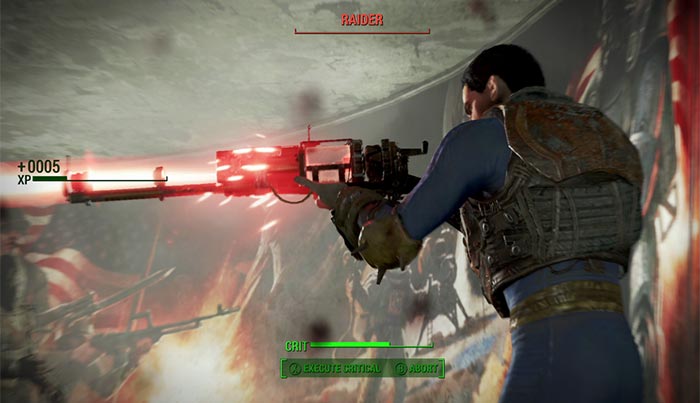 Fallout 4 will launch globally on PC, PlayStation 4 and Xbox One on 10th November 2015. Bethesda. Bethesda execs talked about the game and released 28 new screenshots. The new game allows in-depth character customisation and an all-new crafting system. Players can create their own settlements with everything in Fallout 4 being a resource. There are more than 50 base weapons available with over 700 mods to customise them -and power armour. A dynamic dialogue system allows players to walk away from the game at any point.
Information about Fallout 4 starts at 12.25, continues at 1.05.50 (gameplay from 1.11.00), ends with an interview at 2.15.30
Fallout 4 will be available in a Pip-Boy Edition which includes a Pip-Boy smartphone case for your wrist and companion app to manage inventory, perks, holotapes and more. This edition will retail at $119.99, £99.99 and €129.99. The wearable cuff case is said to "faithfully replicate the in-game model," and includes rotating knobs and lighting. Customisable foam inserts allow you to fit "a variety of smartphone devices".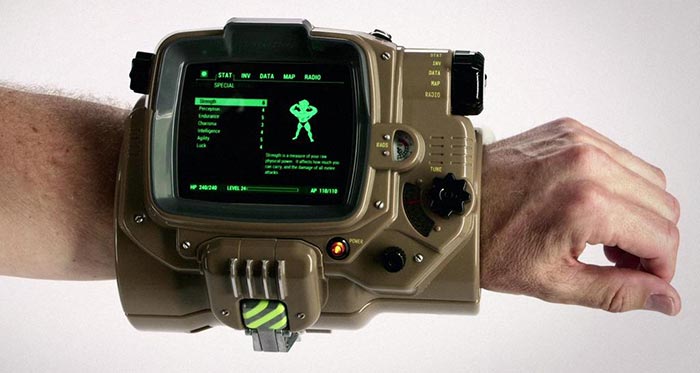 Fallout Shelter is a new free mobile game. Currently it is available on only Apple devices (on iPhone and iPad). The free to download game is described as follows: "Fallout Shelter puts you in control of a state-of-the-art underground Vault from Vault-Tec. Build the perfect Vault, keep your Dwellers happy, and protect them from the dangers of the Wasteland. Vault-Tec has provided the tools, but the rest is up to you. What are you waiting for? Get started building your Vault today for free."
We previously published the official Fallout 4 trailer. As for all the other games covered in the first-ever Bethesda E3 Showcase, I'll let their trailers do the talking…