Bethesda has had a countdown running for the last 24 hours and the clock hit zero at 3pm UK time. Everyone thought it was a Fallout 4 announcement on the way but after so many false hopes in the past – some netizens went to great lengths to create hoaxes – one couldn't be 100 per cent sure. However Fallout 4 is now officially confirmed via multiple official channels.
The official video game trailer on YouTube is quite substantial as pre-showcase videos go, at a little over 3 minutes, see above. The video isn't described as representing anything in particular such as in-game graphics but should probably be taken just as it looks. It appears to be the intro to the new game in the post-apocalyptic RPG series. The retro-futuristic art style remains as we see a world flickering between cosy post WWII style American family advertising imagery and devastated post-apocalyptic views as remembered by a wandering German Shepherd dog.

The main Fallout 4 site is a bit sticky at the time of writing. It's probably suffering from a deluge of video gaming fans trying to reach it. However there isn't much else up on the site except for the embedded YouTube video and a pre-order page which lets you pre-order today (see below). The game will be coming to PC, PS4 and Xbox One only suggests the box shots.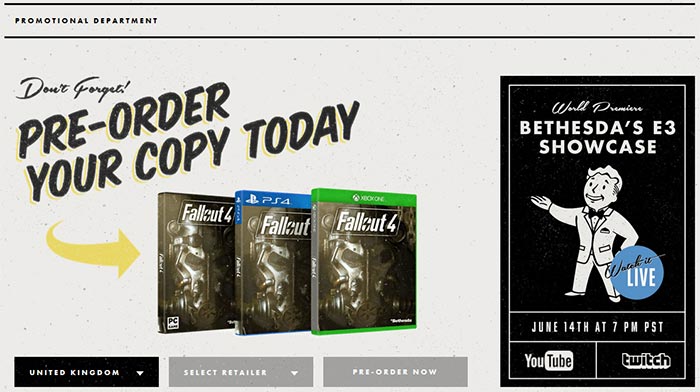 In a report on Wired, Todd Howard, director of Fallout 4, is quoted as saying "We know what this game means to everyone". He adds that, due to the time and improved technology available since the last Fallout game's release, the development team have been able to "be more ambitious than ever" with the production. "We've never been more excited about a game, and we can't wait to share it," Howard teases.
There might be more Fallout 4 morsels released via channels like the Fallout Facebook page in the coming days. However for the full scoop, including details such as a release date, we will have to wait until at least 7pm PST on 14th June, for Bethesda's E3 Showcase event for E3 2015. That event is live on YouTube and Twitch.