Nvidia is adding another tasty gaming morsel to tempt graphics card buyers towards choosing its GeForce GTX 980 or GTX 970. In March we heard that The Witcher 3: Wild Hunt would be free for buyers of Nvidia GeForce GTX 980, 970, 960 graphics cards, or a GTX 970M or above powered notebook. Today we have learned that buyers of the top end GeForce GTX 980 or GTX 970 will get even more gravy – a copy of Batman: Arkham Knight.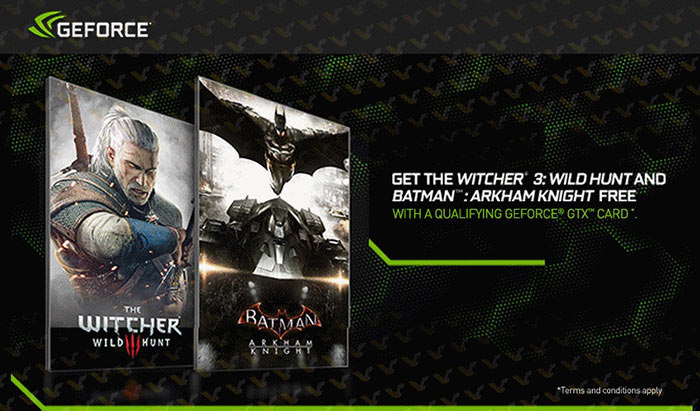 The bundle of games given free to buyers of the Nvidia GeForce GTX 980 or GTX 970 is "worth $120 (£100 MSRP)," says Nvidia. Both The Witcher 3: Wild Hunt and Batman: Arkham Knight are yet to be released but both are highly anticipated titles so Nvidia seems to have done a good job to get them in a giveaway bundle. The studios behind the games do have close ties with Nvidia though, as demonstrated by the fact that the titles employ Nvidia GameWorks technology for enhanced graphics and effects on GeForce GTX hardware, "increasing fidelity, realism, and immersion," crows Nvidia.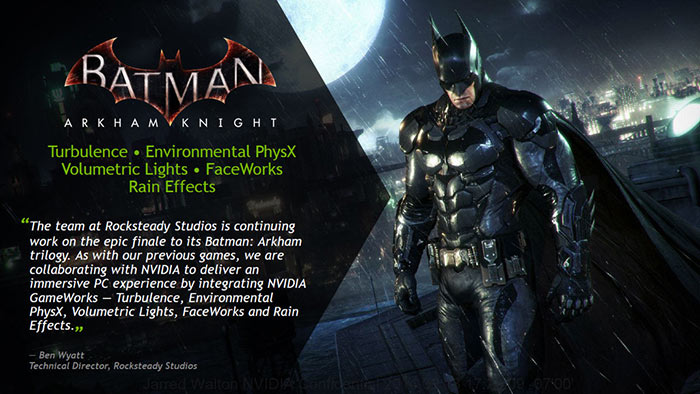 We have covered plenty of emerging news about The Witcher 3 previously here on HEXUS, but if you don't know much about the upcoming Batman game here is a quick summary. The Batman: Arkham Knight character was created specifically for the upcoming game by developers Rocksteady and two DC Comics legends Geoff Johns & Jim Lee. During the game you will be able to fight legendary Batman foes such as Scarecrow and The Penguin and, for the first time, pilot the Batmobile in-game. The characters and environment are enhanced by GameWorks visuals as described in the graphic above.
The Witcher 3: Wild Hunt launches on 19th May, Batman: Arkham Knight will be available from 23rd June 2015.