The first gameplay video for Just Cause 3 has been published today on YouTube. The trailer shows explosive footage from the game as Rico Rodriguez inflicts chaos on the regime of ruthless dictator General Di Ravello.
Just Cause 3's premiere gameplay video promises "No cut scenes, no scripts, no staging. Just gameplay and great camera angles." The video starts by showing Rico skydiving and landing on the cockpit of a fighter jet in mid-flight. There he unseats the General Di Ravello airman to take control of the plane. Next we see a variety of scenes from the lush looking Mediterranean island of Medici, which is unfortunately blemished by billboards, statues and the military machinery of the General. Your job will be to dismantle this regime without prejudice, but with thousands of bullets, lots of explosives and (armed) vehicles.

The Just Cause games have become renowned for their open world destructibility and this third in the series looks set to add to that reputation with dazzling detailed graphics. Adding to the enhanced graphics, we have already been informed that physics elements like parachuting, wing-suiting and grapple hook swinging are to be vastly improved. Even without DLC the game world encompasses a 400 mile square map. The first teaser trailer was launched in February and called 'Firestarter'.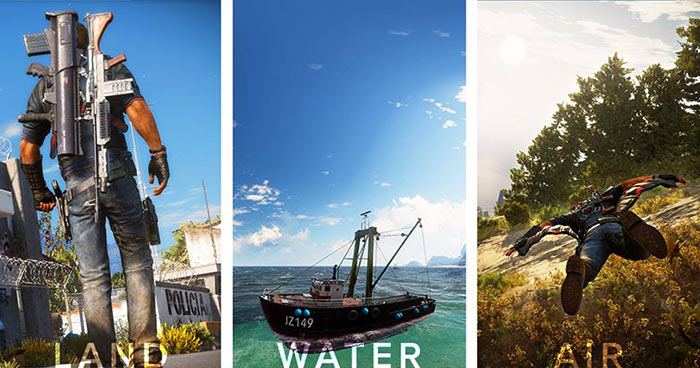 Just Cause 3 is scheduled for a "Holiday 2015," release. It will not be "a huge leap from Just Cause 2, but it's more fun, more polished, and more over-the-top in almost every respect," say developers Avalanche Studios. Owners of PCs, Xbox One and PlayStation 4 consoles will all be able to enjoy the game. Those interested are invited to pre-order now to secure an "exclusive weaponised vehicle pack".