2K and Firaxis Games have announced the latest title from legendary game designer Sid Meier, it's called Starships. Scheduled to be available in "early 2015", the turn-based strategy game will be released for Windows, Mac OS X and the iPad, and is being developed by Meier with the help of a small team at Firaxis.

The game will be set in the Civilization: Beyond Earth universe as a follow-up. 2K Games says that "cross-connectivity" between the two titles is being built for those who own Beyond Earth and also buy Starships. According to the publisher, it will "enhance and expand the depth of both game experiences", but 2K failed to specify what level of connectivity will be provided.
"When designing Starships, I was intrigued by the idea of exploring the next chapter in the story of Civilization: Beyond Earth," said Meier in a statement. "What happens after we colonize our new home and eventually build starships to take to the stars? What has become of our long-lost brothers and sisters from the planet Earth? My goal was to create an experience that focuses on starship design and combat within a universe filled with interstellar adventure, diplomacy, and exploration."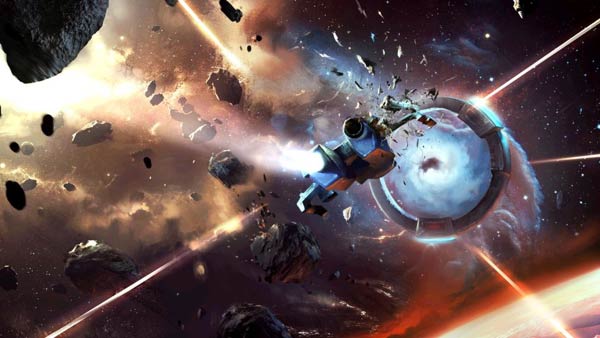 Players will be put in the role of the admiral of a federation of planets, Meier told Eurogamer during an interview, with the key elements of the game being the customising and building your own starships.
"Develop different kinds of weapons, stealth abilities, armour and shields. Put all the different pieces of a ship together in different ways, to get different kinds of ships. Some will be fast, others will be powerful, some are used for stealth, and your role will to be the admiral of this fleet," Meier explained. "Build a fleet of a few very powerful ships or one of many smaller ships, there a lot of variations. Then you take this fleet into the galaxy and in each star system you visit, there will be some sort of mission, a problem to solve, some way that you can help the people living there. After solving these missions, they become part of your federation. Eventually you run into other civilisations doing the same thing and you will recognise some of the leaders from Civilization: Beyond Earth."
As the player controls a fleet of space vessels through the galaxy, they will be tasked with building a planetary federation, researching futuristic technologies, protecting planets and engaging in deep-space combat, with the goal of expanding the organisation's influence and domain across the galaxy.
Different kinds of missions will appear on different planets, shaping the game up to be a combination of tactical starship combat game and a strategy fleet game. Some of the missions will also be dynamically generated, adding to the game's replayability. Unfortunately, no pricing information has been revealed at this point, but we have embedded a scene setting concept video below.