A new trailer for Survival horror game The Evil Within has been published to mark the beginning of the Tokyo Game Show (TGS). This survival horror game is being developed by Tango Gameworks, for Bethesda Softworks, and will be coming to Windows PCs and next/current gen Microsoft and Sony games consoles next month. Horror game fans may also be interested to know that Metal Gear creator Hideo Kojima and Pan's Labyrinth director Guillermo del Toro have put together a new trailer for 'Silent Hills', also for the TGS. Unfortunately the Silent Hills game is a PS4 exclusive, it's launched next week.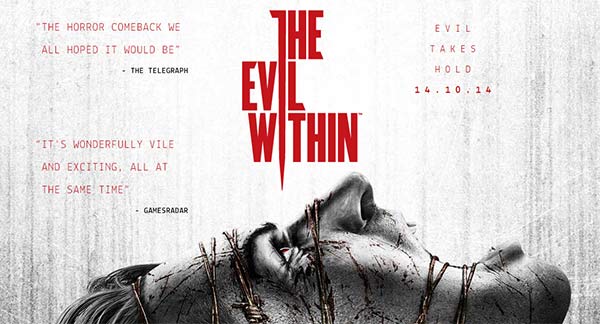 The Evil Within
This game uses a third person perspective for the protagonist, a police detective. It is a game in the survival horror genre and the player will make use of scavenged medical items, weapons and ammo to survive. The story starts with you investigating a gruesome murder. While your are at the scene a mysterious and powerful force kills your fellow officers but you are knocked out, left for dead. Now awake, you must fight to survive and discover what happened…
Shinji Mikami, the creator of Resident Evil, is the director behind this game. Development started in 2010. Mikami believes that existing horror games are more about action than survival and has designed this game to make the player feel relatively powerless in adverse situations hoping to heighten the horror.
The Evil Within is due for release on PC, Xbox One, Xbox 360, PlayStation 4, and PlayStation 3 across Europe and the US on Tuesday 14th October.
Silent Hills
Another helping of horror, again delivered to mark the start of the TGS today, was a new video trailer for Silent Hills. This video is billed as a 'concept movie' and shows us around a ghastly building interior, full of ghouls and monstrosities. The game is notable for using Norman Reedus, star of AMC's Walking Dead TV series, as the protagonist.
There's not long until Silent Hills is released for PS4, it's expected to be available a week from today.