Nvidia will soon be offering a new games bundle aiming to help shift its GeForce GTX 660 and better graphics cards. The GeForce GTX Holiday Bundle, available from 28th October until 26th November, will bundle Assassin's Creed IV: Black Flag and Splinter Cell Blacklist, and a voucher for $50 off an Nvidia SHIELD handheld. This bundle will be thrown in with the GeForce GTX 660, 670, 680, 690, and 760.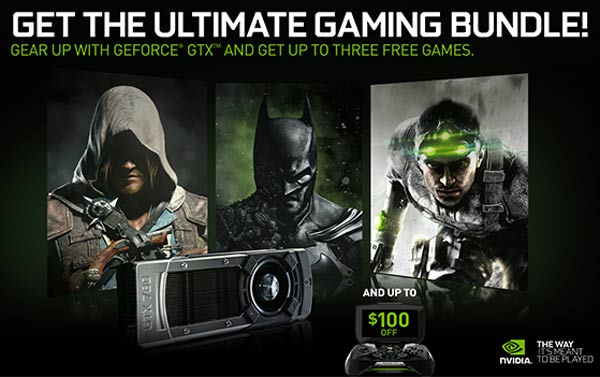 What about the higher end cards? Well Nvidia has a bigger GeForce GTX Holiday Bundle for those with deeper pockets. In addition to Assassin's Creed IV: Black Flag and Splinter Cell Blacklist, Nvidia is giving away Batman: Arkham Origins to buyers of GeForce GTX 770, 780, and TITAN cards - during the same time period of 28th October to the 26th November. Also, for this higher bundle tier, Nvidia is generously offering customers a larger $100 voucher off the purchase of an Nvidia SHIELD, described as "the ultimate gaming and entertainment portable," by the Nvidia blog.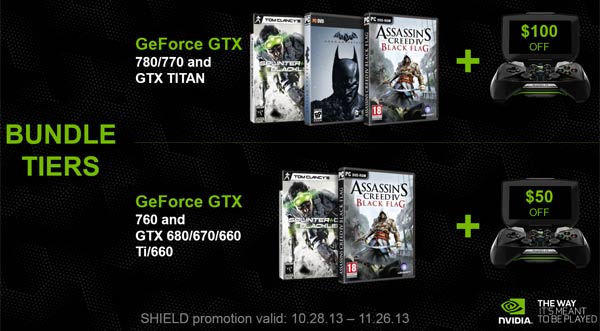 All the games on offer in the GeForce GTX Holiday Bundle are Nvidia enhanced titles. Nvidia boasts of the "extensive use of NVIDIA GPU-accelerated effects, adding extra realistic detail to the whole, dramatically increasing image quality," with these games titles on PC. Technologies such as PhysX, DirectX 11 Tessellation, NVIDIA Percentage-Closer Soft Shadows, NVIDIA HBAO+ Ambient Occlusion, NVIDIA TXAA anti-aliasing, NVIDIA-enhanced light rays are liberally sprinkled throughout these 'The Way It's Meant To Be Played' games.
At the time of writing only Splinter Cell Blacklist has been launched already on PC but Batman: Arkham Origins is due on 25th October and Assassin's Creed IV: Black Flag is due on 19th November.
The bundle details and texts are US-centric but the article linked to above also appears on the GeForce.co.uk website. Unfortunately the UK website article is exactly the same as the US version right now; it refers to North American retailers and e-tailers and prices are in US dollars. Hopefully we will find out shortly if this "Pirates, Heroes and Spies Bundle," will also be available in the UK from 28th October.