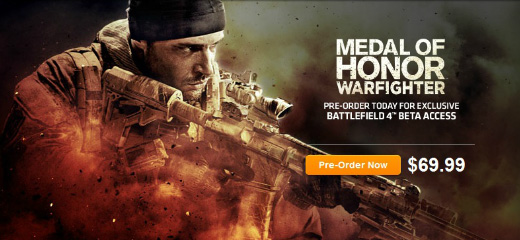 Decided to skip Call of Duty: Black Ops II in favour of the next instalment in the Battlefield franchise? Then you could be waiting a while.
Publisher EA has this week confirmed that a Battlefield 4 beta will kick off in the autumn of 2013, which in turn suggests that a retail release may not happen until Christmas 2013 at the earliest.
Details surrounding the Battlefield 4 beta are few and far between, but EA has confirmed that exclusive access will be given to players who pre-order the Limited Edition release of Medal of Honor: Warfighter prior to that game's launch on October 23.
The Battlefield franchise, developed by DICE, has proven to be a hit on multiple platforms and the timing of Battlefield 4 suggests that the game's release could coincide with the availability of next-generation consoles from Microsoft and Sony. A launch title for Xbox 8 or PlayStation 4, perhaps?
Further details on the pre-order promotion are available at medalofhonor.com/bf4-beta.