Over the past couple of days, reports from across the net claim that a release date for Blizzard's latest instalment of its hack 'n slash Diablo series has been set, and that Diablo III is coming to Xbox 360 and PlayStation 3. Blizzard says that both reports are untrue.

Though the World of Warcraft and Starcraft developer hasn't released an official statement confirming the news, Blizzard community manager Micah "Bashiok" Whipple Tweeted this week back to a fan who posed the question "

Can you confirm or deny Diablo 3 coming to consoles?

" "

Yup,

" Whipple said. "

Josh Mosqueira is lead designer for the Diablo console project.

"

It looks like Whipple may get his knuckles rapped by Blizzard, however, who swiftly contacted Wired.com, who initially broke the story, to tell them that Whipple's response was misinterpreted.

"

Bashiok's response on Twitter was intended as a confirmation that we're actively exploring the possibility of developing a console version of Diablo III, as we've mentioned in the past,

" the representative wrote in an email. "

This is not a confirmation that Diablo III is coming to any console platform.

"

Reports this week also suggested that Diablo III will be released on February 1, 2012 after BestBuy listed the game for purchase on that day and set up a digital countdown timer outside one of its stores ticking down to that date. Blizzard immediately Tweeted: "

Diablo III does not have a release date. Any store or person claiming otherwise is guessing.

"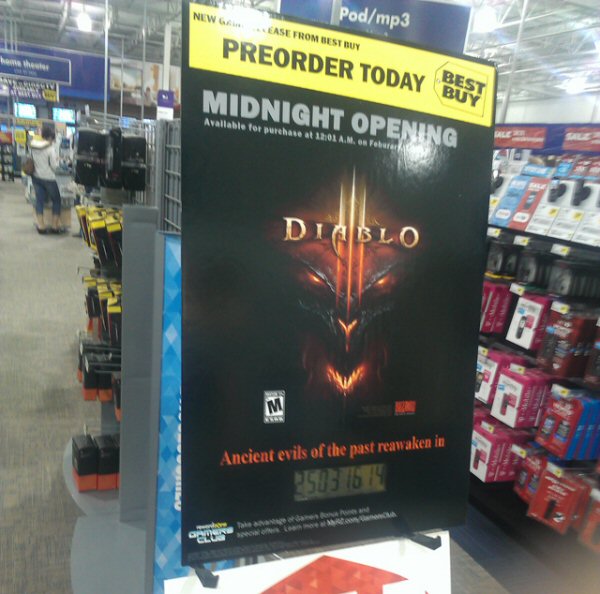 BestBuy ticker hints at midnight Feb 1, 2012 launch



If Diablo III is due for release on February 1st, we'd have expected Blizzard to have announced it officially by now, but BestBuy is obviously confident in its prediction if it's gone to the trouble of creating advertising outside of its stores. As for the console port of Diablo III? Well, Whipple does appear to have let the cat out of the bag, but until we hear from the official source we're not entirely convinced.

Blizzard has stated in the past that if it did ever decide to bring Diablo to consoles it would build the game from the ground-up.