Ubisoft has released the educational Discovery Tour: Ancient Greece expansion for its Assassin's Creed Odyssey game. The add-on is free for owners of the main game but it has been released as a standalone package on UPlay too. Like the Assassin's Creed Origins: Discovery Tour mode for Ancient Egypt, this latest effort was designed as an educational tool for teachers - but it is open to anyone to enjoy the latest Assassin's Creed Ancient Greek environment, in a conflict-free historically absorbing way.
Assassin's Creed Odyssey Discovery tourists will be able to find answers to questions such as: "How did King Leonidas and his Spartans choose Thermopylai as the best place to defend against the invading Persian armies? When the Athenians faced overwhelming odds at the Battle of Marathon, how did they prevail? And what were the original Olympics really like?" Users will be able to delve into the past to learn about conflicts, philosophy, myths, cities, art, and daily life of Ancient Greece.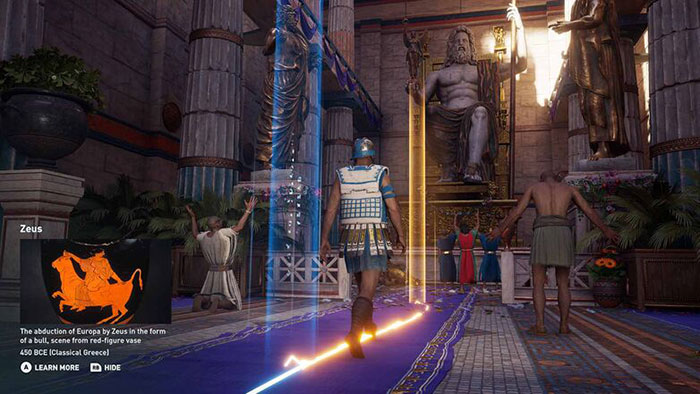 Ubisoft has created 30 tours in this expansion available to access directly via fast travel or journeying though the immense landscape of Assassin's Creed Odyssey, abosorbing Greek history and culture. Along the way you will be guided by narrators and/or NPCs (like Leonidas, Aspasia, Herodotos, Markos, or Barnabas). Once on the tours, an illuminated path will guide your journey, changing colour from gold to blue so you know where you have been before. Helping cement the educational nature of these tours the NPC may quiz you about your tour when it has ended (not mandatory).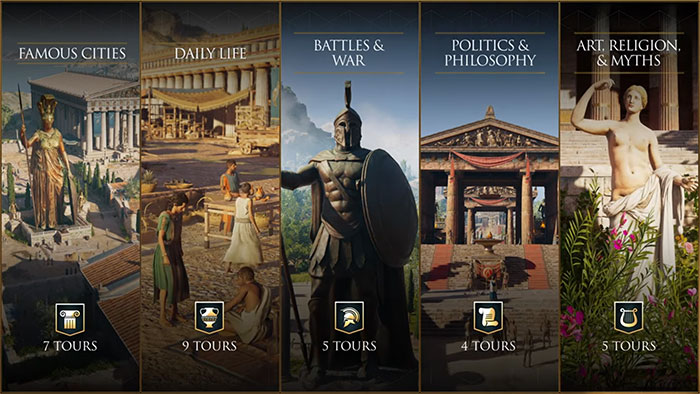 In a nod to gamification within this educational tool, to start with you will be able to choose from six avatars to represent you as you explore Ancient Greece (both third person and first person views are available). As you complete the tours and find discovery sites you will unlock 29 more characters as well as a number of outfits. Furthermore, it is possible to unlock up to 15 different mounts for speedy travelling, including a unicorn, the winged Pegasus, and the fiery Abraxas.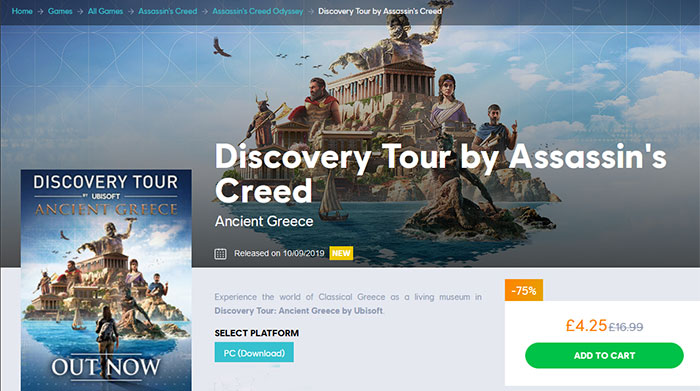 The Discovery Tour: Ancient Greece is available right now as a free update for Assassin's Creed Odyssey on PS4, Xbox One, or PC (including UPlay+), and as a standalone purchase on PC via Uplay. At the time of writing the standalone PC experience is discounted from £16.99 to £4.25 in the UK.