As teased earlier this week, Gearbox revealed a big bundle of Borderlands news at Pax East yesterday evening. The highlight of the reveal was of course the long awaited sequel, Borderlands 3. Happily we didn't just get a 0.5 release this time. Gearbox has shared a not-too-stingy three and a half minute trailer for its latest major release in this first person shoot-n-loot RPG, and it is embedded below. In other announcements the games developer revealed Borderlands: The Handsome Collection Ultra HD, and the Borderlands: GOTY official trailer. Non-Borderlands games featured at Pax East by Gearbox included Risk of Rain 2, and Trover Saves the Universe.
The above trailer shows off the now-familiar Borderlands signature cell shaded art style used throughout the series. Not only the art style but a lot of the characters will be familiar too, like Brick, Lilith, and of course CL4P-TP. There were some new characters - both vault-hunters and villains, with interesting new powers/abilities, a billion guns (and guns with legs), and we get to see some upcoming game world locations in the trailer too.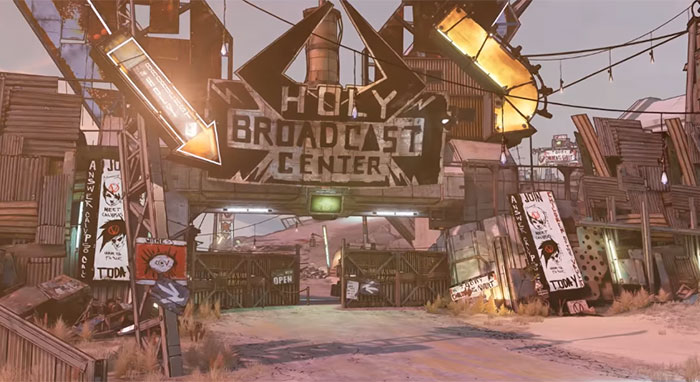 Overall there wasn't a lot of information spilled on Borderlands 3, but some fans have tried to get as much as possible out of these trailers by analysing them frame by frame. Gearbox will reveal more about this sequel on 3rd April. Perhaps then we will learn of the release schedule, platforms, editions, pricing and more.
More Borderlands
Borderlands: The Handsome Collection Ultra HD has been announced. This collection of Borderlands 2 and Borderlands: The Pre-Sequel is being boosted by the release of an UltraHD texture pack and enhancements. PC gamers and console gamers on the PS4 Pro and Xbox One X will enjoy 4K "Ultra HD and HDR glory" with this free content download. It is released on 3rd April.
The original Borderlands is on its way to current gen consoles. A 4K remastered release hasn't just been prettied up with visual upgrades and new character heads. The game will also feature new weapons (6 new legendaries), a BL2 style minimap, gold chests and keys, and inventory control tweaks. Gearbox has implemented split screen and 4-up simultaneous players on screen co-op modes.
Returning Shift Code users from other Borderlands games will be awarded 75 free Golden Keys, and two randomly selected new weapons for use with your first selected vault hunter as you play the game.
The new Borderlands GOTY is released on PC, PS4, and Xbox One on 3rd April.