Blizzard has released Patch 1.29 for Warcraft 3. This patch is the largest ever delivered in the game's 16 year history and is significant for a number of reasons. Firstly, in game lobbies you will notice that it has expanded the number of supported players to 24, and secondly there has been support added for widescreen monitors (not stretching, but aspect-correct wider field of view support). Additionally Blizzard has used the patch to deliver balance changes and bug fixes.

In recent years and months Blizzard has been updating or even remastering its classic titles so that they remain playable and alive for the foreseeable future. For example StarCraft Remastered was launched back in August last year with 4K visuals and modern online play, while the SD version got online updates but became free. The Warcraft 3 changes aren't quite as extensive or worthy of any extra outlay, Blizzard must reason, as Patch 1.29 is free for current game owners.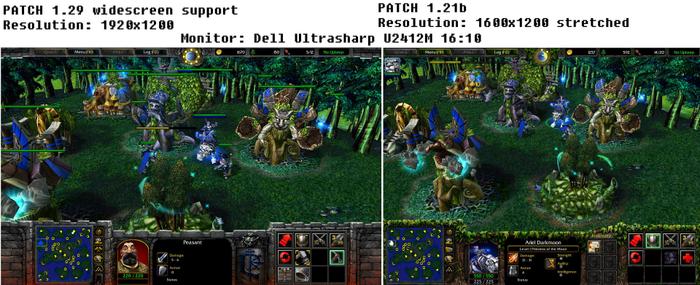 click to zoom comparison images
With the expansion in support for more players, Blizzard added 12 new team colours, for 24 in all. You can check out the full list of hues, if you are interested, in the patch notes. For widescreen support Blizzard has added proper aspect-correct scaling for widescreen displays in-game. However, it has sensibly saved effort by adding bookends to the in-game interface, and black pillars in menus.
It is noted that after this update that ladder standings will be reset, replays are incompatible between major game versions, and automated tournaments will resume next week. Meanwhile, there are a number of bug fixes delivered in Patch 1.29 but a good number of known issues remaining. Last but not least, there is a very long list of hero balance changes to check over if you are a Warcraft aficionado.
If you play this 2002 vintage game on the 2001 vintage Windows XP OS you will probably be sad to hear that this is the last update to Warcraft 3 to support this aging version of Windows.