Blizzard's annual community celebration took place over Friday and Saturday. Over 30,000 gaming enthusiasts visited the BlizzCon event this year at the Anaheim Convention Centre in Anaheim, California. There was the usual mix of eSports competitions, developer panels, cosplaying, and exciting announcements from Blizzard about its top IPs. Here is a summary of the most important news.
World of Warcraft
There were two key announcements for fans of WoW. The seventh expansion for World of Warcraft has been announced: Battle for Azeroth. Blizzard says that this expansion focuses upon a reignition of the war between the Horde and the Alliance. Blizzard has published a dedicated microsite for the expansion where you can learn more and watch various video trailers.
Another announcement to warm WoW players' hearts is that "a gameplay experience that recaptures players' first journeys into the original World of Warcraft," is being worked upon. WoW Classic will be based upon a 'vanilla server', returning to a style of play last enjoyed before the Burning Crusade expansion launched in 2007. Development is in early stages so there's no official ETA as yet.
StarCraft
From 14th November, StarCraft 2: Wings of Liberty will be free to play. Those who already own Wings of Liberty will receive the Heart of the Swarm expansion at no additional cost. Single player expansions Heart of the Swarm, Legacy of the Void and Nova Covert Ops will still be up for sale at $14.99 each.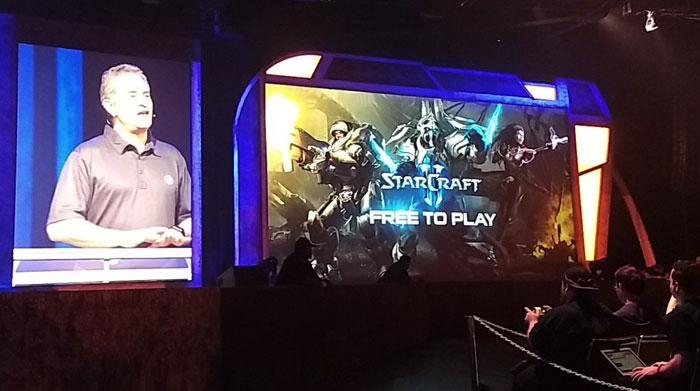 Overwatch
A new support Hero called Moira is heading to Overwatch soon. Moira can inflict great damage upon enemies and also work as a healer for teammates. She becomes Overwatch's 26th playable character.
A new map called Blizzard World is coming to Overwatch for all players in 2018. The map is akin to a theme park of popular Blizzard IPs (Diablo, StarCraft, and Warcraft) and players will be tasked to either attack or protect the map payload.
Hearthstone
A new Hearthstone expansion, dubbed Kobolds & Catacombs, is coming in December. The expansion is described as a "return to the roots of fantasy." A new single player mode called 'dungeon run' will feature. In this mode players face eight random bosses and earn new cards but they can lose all the cards if they don't succeed in the quest.
Heroes of the Storm
Coming later this year, two new dragon heroes, Hanzo and Alexstrasza, will bring new and dramatically different styles of play to the Nexus in Blizzard's fast-paced MOBA. Additionally Blizzard described a 2018 gameplay update with a wider field-of-view camera, new Mercenary mechanics, and other core gameplay updates.