Console users have already been blasting their way through Destiny 2 for over a month. However, PC users are now tantalisingly close to getting their hands on their 4K uncapped framerate version of the game (exclusively via Blizzard's battle.net). If you pre-purchase the game you will qualify for the Coldheart Exotic Trace Rifle bonus weapon, Kill-Tracker Ghost, and Salute Emote - and be able to start preloading tomorrow. The official release worldwide on PC will go live at 1pm EDT (6pm BST) on 24th October.
Destiny 2 is an action shooter game with a cinematic action-adventure campaign set across the solar system, with cooperative gameplay challenges and rewards, and competitive multiplayer options. The new official launch trailer for PCs, above, provides a brief introduction to the game.
Bungie released the minimum and recommended PC specs in a blog post about the PC launch last week. I've reproduced the specs table for Destiny 2 below, so you can quickly see if your PC system is up to snuff. As usual there are lots of settings to tweak to get this PC game running to your particular preferences, with adjustments to anti-aliasing, ambient occlusion, depth of field, motion blur, and many more.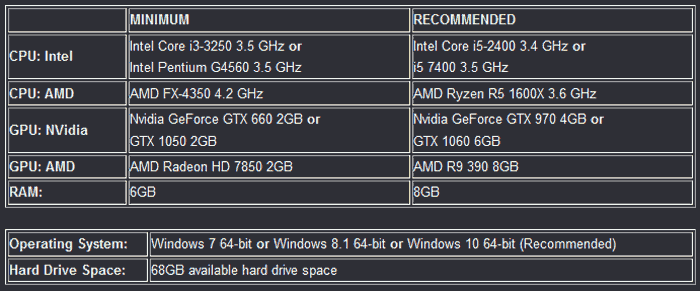 The game will be sold in a trio of SKUs, starting with the $60 standard edition, a $90 game plus expansion pass bundle, and a $100 digital deluxe edition with the planned expansions plus a smattering of premium digital content added. The first planned DLC is called the Curse of Osiris but won't be available to the winter. A second and final planned DLC is scheduled for release in spring 2018.