Bethesda is inviting gamers to return to the Wasteland on 26th September. On this date Fallout 4: Game of the Year Edition will be released for PC, PlayStation 4, and Xbox One. The Game of the Year Edition, or GOTY for short, includes the fully updated original game along with all six add-ons: Nuka-World, Vault-Tec Workshop, Contraptions Workshop, Far Harbor, Wasteland Workshop, and Automatron.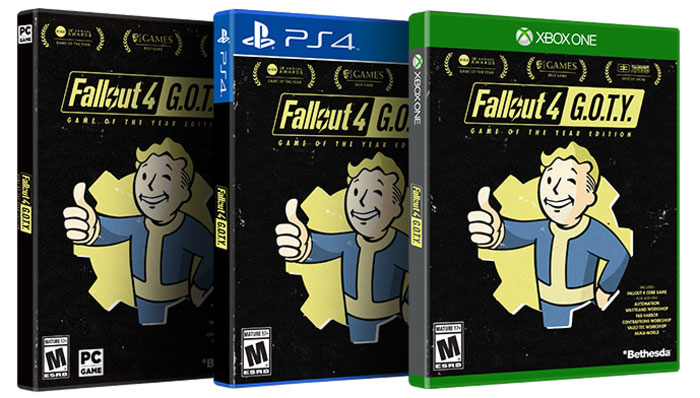 We are told that Fallout 4 has won over 200 'best of' awards including the 2016 BAFTA and 2016 D.I.C.E. Game of the Year. It was certainly highly anticipated and I remember well the pre-release teasers, leaks and so on being very popular.
On release Fallout 4 had its fair share of bugs and issues. The majority of such annoyances should have been quashed by now and then there have been various enhancements delivered since launch to make it more appealing. Beyond the included six pack of DLC in the GOTY, there are also graphical enhancements in the game, gameplay updates (including Survival mode). Mods are available for both PC and consoles and you can make your own customisations using the free Creation Kit on PC.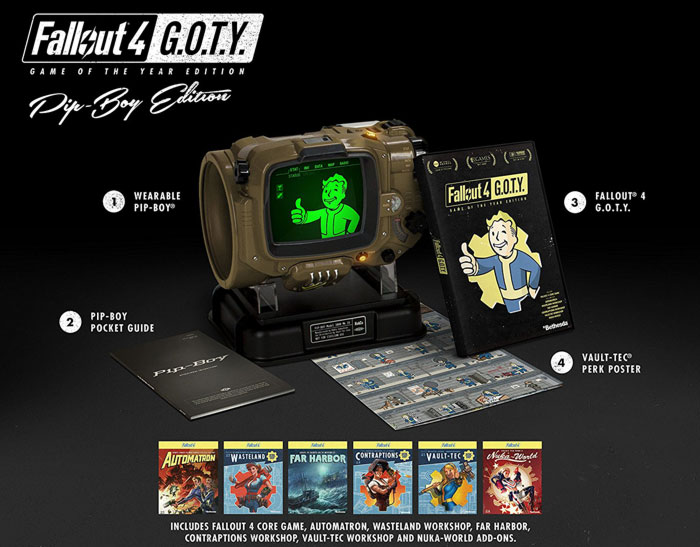 Bethesda says it is celebrating the launch of Fallout 4 GOTY with the release of a limited quantity of Fallout 4 GOTY. Pip-Boy collector editions, exclusively available in North America at select retailers. If you live stateside you can grab this $99.99 edition, which includes a wearable Pip-Boy smart band, a Pip-Boy pocket guide, Fallout 4 GOTY, and a Vault-Tec poster. I checked the Amazon pre-order link slightly above this text, and the GOTY Pip-Boy edition will ship to the UK for an extra $10.46.