Bethesda has a big announcement for DOOM players. With update version 6.66 it claims to deliver the 'Ultimate' DOOM experience to all with the retiring of the season pass and all DLC becoming unlocked for DOOMsters on all platforms. As a software update it provides tweaks and fixes but goes beyond this to implement a revised multiplayer progression system, an all-new Runes System, and a revised UI. Last but not least, Bethesda will surely welcome more new players to DOOM this weekend with its 'free weekend' promotion where PC and Xbox One gamers can try out the full game. PS4 users can enjoy a free weekend a week later. Suring the free weekend promotion a digital copy of the game will be available for $14.99 (US) / £11.99 (UK) / $17.99 (AUS).
With the retirement of the Season Pass, all multiplayer DLC is now unlocked. The content now available for all includes "nine of our best maps, three additional guns, three additional playable demons, new equipment, armour sets and more".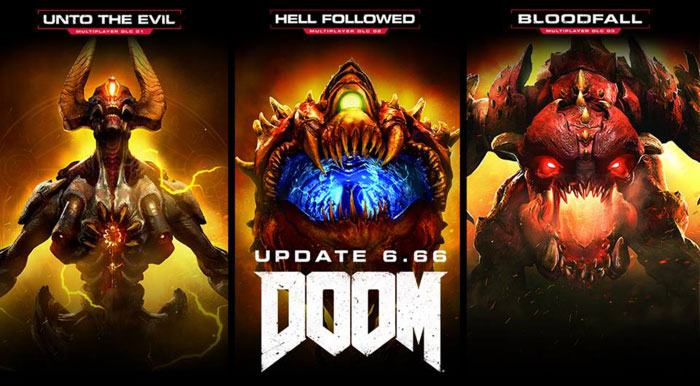 Bethesda is replacing the current random unlock system with one that respects specific levelling requirements and/or in-game challenge levels. The developers reckon this will be a more enjoyable and rewarding system to play through. Veteran players will be faced with an option to completely reset their unlock progression items and experience the new progression system fresh, OR retain all of their existing guns, equipment, demons and customization unlocks that they've acquired or purchased and then unlock the remaining items through the revised progression system. However, to recognise previous game experience veterans will get a special badge, and yes, there's a Slayer Badge for the elite few that have previously achieved the max Slayer level.
DOOM regulars will notice that the Hack Module System has been replaced with an all-new Runes System. If you didn't already know, Runes are persistent capabilities (or perks) that become a consistent and predictable component of your loadout and play style. In game the HUD has been overhauled with clearer challenge callouts, awards and scoring. Kill Cards now provide a clearer summary of your untimely death. These are just a couple of several UI improvements.
Free weekends are scheduled to start as follows:
PC - 1pm ET on Thursday, 20th July
Xbox One - 12 noon ET on Thursday, 20th July
PS4 - 12 noon ET on Thursday, 27th July
Bethesda says free users will be able to "Blast hordes of demons in the first two levels of DOOM's critically acclaimed campaign, then ratchet up the intensity by going for a high-score in Arcade Mode." In addition users will have access to DOOM's multiplayer and SnapMap modes for the duration of the weekend. If you purchase during this free weekend all your progress will be saved to continue in the full game.