Bethesda has revealed the PC system minimum and recommended specs for Prey. This highly anticipated sci-fi FPS game will be released on PC, PS4 and Xbox One next Thursday / Friday depending on format / region. Console users are lucky to be able to play a demo of the new game 'The Prey Demo: Opening Hour' right now.
PC system considerations
There is nothing remarkable about these minimum and recommended specs for a modern AAA game. Please consult the table below to see if your system is likely to be capable of playing Prey at a decent pace/1settings.
Minimum requirements

Recommended specifications

CPU: Intel i5-2400, AMD FX-8320
GPU: GTX 660 2GB, AMD Radeon 7850 2GB
Memory: 8GB

CPU: Intel i7-2600K, AMD FX-8350
GPU: GTX 970 4GB, AMD R9 290 4GB
Memory: 16GB
Conspicuously missing is OS version, and graphics API support information, plus storage requirements. A hint at the disk space usage of this game comes from the console versions - it uses approx 40GB.
PC users will have a multitude of advanced settings to tweak to get Prey running to their taste. Adjustments will be capable of being made to:
Object Detail
Shadow Quality
Texture Quality
Anisotropic Filtering
Anti-Aliasing
Horizontal Field of View
Screen Space Directional Occlusion
Screen Space Reflections
If you are interested in the game mechanics and even in checking out some achievements / trophies you can earn (warning, these are labelled as spoilers) you can click through the spoiler image on the Bethesda Blog.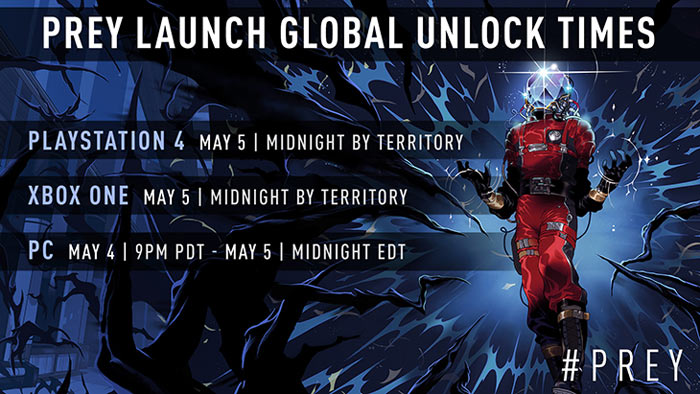 The various launch times for different formats are shown in the graphic above. PC users will be able to pre-load from 3rd May, with the game unlocking at 9pm PDT on 4th May (5am BST on Friday 5th May).
Be prepared for Prey and AMD RX Vega?
HEXUS regulars will be aware of the promotional and development collaboration in place between Bethesda and AMD. As mentioned earlier this week, in our report about the RX Vega launch schedule, Prey has been 'advertised' as a great showcase for AMD's latest GPU. Fingers crossed that we won't just see Prey released on Friday, but a big dollop of RX Vega news too.