Starship Commander
A new VR adventure in space has been revealed by developers Human Interact. Starship Commander puts you at the helm of a spaceship embroiled in an intergalactic war and is coming to Oculus Rift and HTC Vive. Interestingly this VR adventure affords you just one game controller - your voice.
A space adventure with just voice control sounds a pretty reasonable proposition. If you watch various Star Trek series, for example, much of the important stuff is decided by the captain on the USS Enterprise bridge. In the Starship commander game your voice commands are required to make decisions where to go, you decide on combat or evasion moves, you negotiate with aliens - and all with consequences that can change the game.
Starship Commander is powered by Microsoft's Custom Speech Service, a speech recognition solution by Microsoft Cognitive Services. Thus you don't have to remember the correct way to speak commands, just interact the way you would in the real world.
Star Wars Humble Bundle III
Following on from the sci-fi themed news above, the Humble Bundlers have just launched their third Star Wars bundle. This bundle has four tiers starting at just $1 for four classic Star Wars games and reaching $35 with an included T-shirt. The top bundle without the T-shirt is a reasonable $14.
For $1 (80p) or more you can get; Star Wars Knights of the Old Republic, Star Wars: X-Wing Alliance, Star Wars: X-Wing vs TIE Fighter - Balance of Power Campaigns, and Star Wars Galactic Battlegrounds Saga.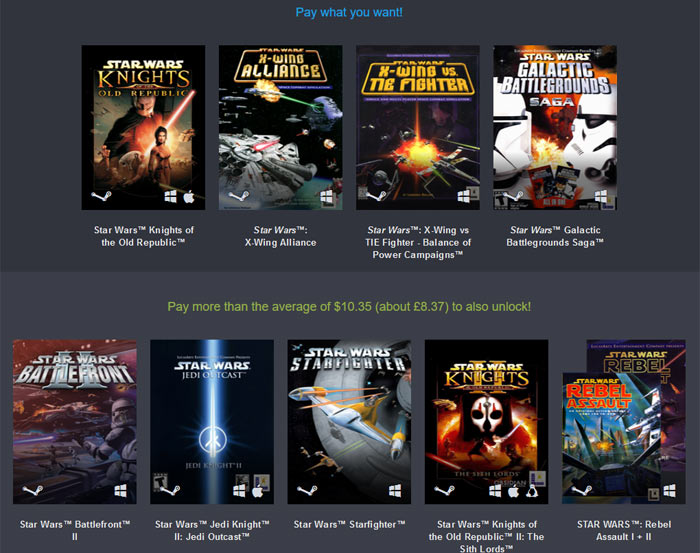 Pay more than the average, currently $10.35 (about £8.37), to add unlocks for Star Wars Battlefront II, Star Wars Jedi Knight II: Jedi Outcast, Star Wars Starfighter, Star Wars Knights of the Old Republic II: The Sith Lords, and Star Wars: Rebel Assault I + II.

For $14 (about £11.32) you can add another five games to your Star Wars swag bag: Star Wars The Force Unleashed: Ultimate Sith Edition, Star Wars: The Force Unleashed II, Star Wars: Rogue Squadron 3D, Star Wars Shadows of the Empire, and Star Wars Empire At War: Gold Pack.
Lastly, as mentioned above, there's an extra tier with a special X-Wing Vs. TIE Fighter Star Wars T-Shirt. As you might have guessed this is an exclusive T-shirt, and if you want it you will have to stump up $35 (about £28.30) or more.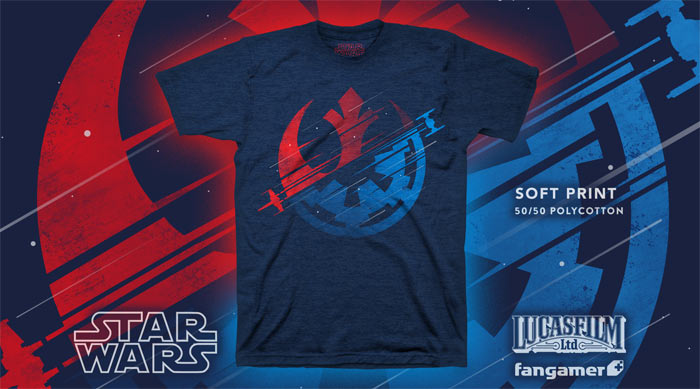 Remember Humble Bundle payments can be allocated to developers, charities, and a Humble tip - however you wish. The Humble bundlers claim the full set of games on offer above would normally cost approx $157.