Assassin's Creed has been one of Ubisoft's most successful franchises since the first game in the series was published in 2007. Thus it is perhaps fitting that Ubisoft ends its Ubi30 celebrations with an Assassin'e Creed outing.
Ubisoft has chosen 2012's Assassin's Creed III, which is actually the fifth game in the franchise, as its giveaway in this final month. The Ubisoft Montreal developed game is set in the 18th Century, before, during and after the American Revolution. Your third person gaming activities take place in 18th Century Boston, New York City, and the American frontier. Assassin's Creed III garnered many positive reviews and was a big success for Ubisoft, selling over 12 million copies worldwide.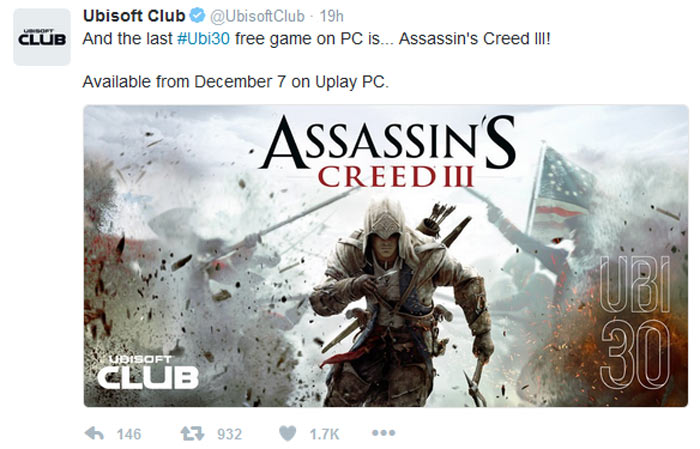 You can't grab Assassin's Creed III for free right now, Ubisoft has just thoughtfully provided advance notice of the freebie becoming available from Wednesday 7th December. If you haven't done so already that gives you the best part of a week to claim November's freebie - Far Cry 3 Blood Dragon.

On the topic of Ubisoft giveaways, we previously published a story about the Ubisoft 30 Days of Giveaways 'advent calendar'. That promotion is still ongoing but has turned into a bit of a damp squib with many days giveaways being JPGs and GIFs of game art and so on. However, as noted by HEXUS forum member Mr Cat-the-Fifth, there are better things to come, such as days providing another chance to grab previous Ubi30 freebie games. The, on the 9th December, the first 300 people to click on the giveaway box can win their choice of a new Ubisoift games title. To stand a chance in that case you will have to be ready on the advent calendar style site at 9.00 CET.