I've been enjoying the Ubi30 celebrations with some very nice gaming giveaways over the last few months. Now Ubisoft has decided to end its anniversary celebrations on a high note, with a gaming goodies advent calendar of sorts. The Ubi30 '30 days of giveaways' is now on and will run until 23rd December, inclusive.
Already we have access to two days of Ubisoft giveaways so it's possible to gauge the quality of freebies on offer to a small extent. Day one provided a free copy of Rayman Classic on mobile, and it is still available. Clicking on the Ubisoft provided link (need to sign in) takes you to the Google Play Store where you can snag this game for free.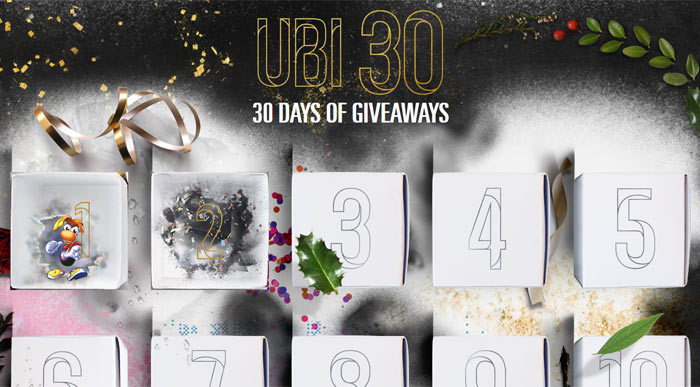 Today's promotion in the digital advent calendar (Day 2) is "<75% off Ubisoft PC Games". Hmmm, no surprise freebie today… Clicking through from the provided link takes one straight to the Ubisoft store where you are presented with what look like open-to-anyone Black Friday offerings on games such as Watch Dogs 2 at £39.99, and 50 per cent off The Division, Anno 2205, and Rainbow Six Siege. Hopefully day three will restart the freebie giveaways.
There's a further 28 little present boxes to be opened. It is probably worth a look in on the 30 Days of Giveaways promotions page from time to time to see if the offers are tending to be delicious or dross.
Everyone will be aware that it is Black Friday today with the torrent of sales available online and out there in cold bricks and mortar land. However 'FREE' is the best kind of sale available, so I am happy to report upon this Ubisoft promotion, especially if it delivers plenty of freebies after today's 'Sale' event interruption.
Gaming bargain hunters should also keep their eyes open for the final Ubi30 monthly giveaway (December) which we should hear about at the end of next week or so.