Ubisoft is another large games publisher at Gamescom showing off a roster of new games and expansions. Headlining titles being shown off at Ubisoft's booth include; The Crew: Calling All Units, Steep, Watch Dogs 2- Bounty Hunter, For Honor, and South Park: The Fractured but Whole. Most of these are addressed individually on the Ubisoft blog but we are giving you a selection of highlights and Gamescom videos here today.
Calling all Units is the second major expansion for The Crew. The main thrust of this DLC is that, as a police officer, you are tasked with catching and stopping street racers. It's a 12 story mission pack with new vehicles, parts and XP to be gained. If you are interested you can grab Calling all Units in November 29 on Xbox One, PS4, and PC.
This is a winter sports game featuring ski, snowboard, paraglide, or wingsuit activities in the Alps and Alaska. Competitive actions sports events are open to players, as are other challenges and stunts. You can record, edit and replay your best winter sports feats. Steep comes out December 2016 on PS4, Xbox One & PC.
This expansion "brings seamless multiplayer chaos to the bay area," says Ubisoft. It provides a PVP mode where one hacker takes down another by any means possible. You can be the Bounty Hunter or the target.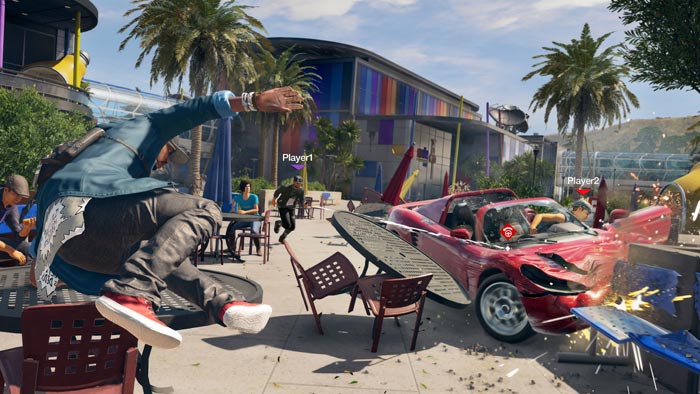 Bounties are triggered by a hacker causing a high level of chaos resulting in police intervention, or making yourself a 'wanted' target by hacking your own status. Watch Dogs 2 will arrive on 15th November for PS4, PC, and Xbox One.
Ubisoft has revealed 12 playable heroes and five multiplayer modes available in For Honor. The Gamescom trailer shows how different types of heroes contribute to the action on the battlefield. There are three factions – Knights, Vikings, and Samurai, and they have variously named Vanguards, Assassins, Heavies, and Hybrids at their disposal. There's a closed alpha of the game in mid September, and the finished For Honor will be available from Valentine's Day, 14th February, 2017, on Xbox One, PlayStation 4, and Windows PC.
South Park: The Fractured but Whole
Last but not least, Ubisoft has detailed a new peripheral that will ship with South Park: The Fractured But Whole. The device, dubbed the Nosulus Rift, is said to provide fart aroma blasts to tie in with the on-screen gameplay. Farting is one of the special powers of the South Park character you play, so this peripheral helps make the game the most real and immersive experience possible... The Nosulus Rift hardware has had its debut at Gamescom this week. The new South Park game gets released on 6th December on Xbox One, PlayStation 4, and Windows PC.