GOG, the computer game digital distribution platform and community, has launched a new program called GOG Connect. The connection referred to in the program name is specifically between users' GOG accounts and Steam accounts. Why would you want to do this? Well, to "jumpstart your GOG library" you'll be able to import eligible games from your Steam library to your GOG library and from then on you will have permanent access to the DRM-free version that GOG supports.

Previously if you bought a game on Steam rather than GOG (assuming it was available on both platforms) you had made your choice and would have to live with it - or purchase the game twice. Now with GOG Connect you will be able to gain a DRM-free copy of some of your Steam games, and with GOG you aren't restricted to using the game distribution client interface, you can just run the game as and when you wish.
To kick-off the program GOG has a list of over 20 games which can be imported from your Steam library which include titles from partners such as Deep Silver, Harebrained Schemes and more. Some of the more well-known titles include; Saints Row 2, Broken Sword: Director's Cut, FTL: Advanced Edition, Trine: Enchanted Edition, and Unreal Tournament GOTY. You can scroll down the main GOG Connect page to see all the games currently in the program.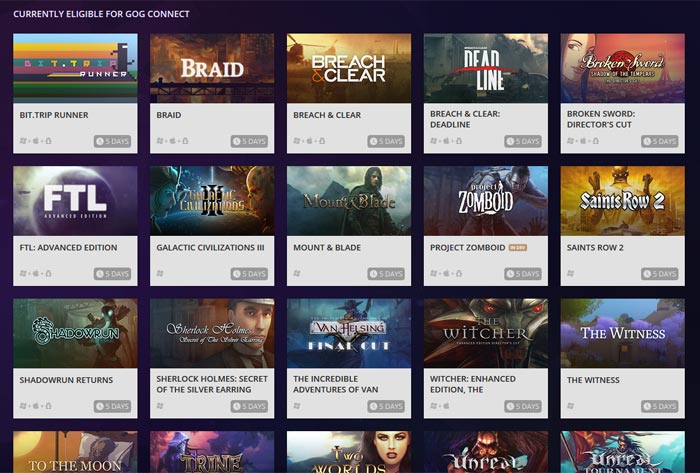 Please note that the games listed in the offer are connectable for a time limited period – however once imported into your GOG library you will permanently own them as DRM-free titles. Furthermore, you can only connect one Steam account to a single GOG account and it is a permanent bond you will set up. There's an FAQ about GOG Connect you can check through for other conditions.
The GOG Connect program will welcome new titles periodically, again said to be for limited durations. It sounds like GOG simply wants people to use its services more often – then perhaps you will buy more games directly from them in the first place. Steam has over 125 million active users so it's a nice juicy market to aim for.