Made to Game
Nvidia has just released invitations to a special event it is holding at the GDC 2015 in San Francisco, on the evening of 3rd March 2015. The event is called 'Made to Game'. We are promised the luanch of a product which will "redefine the future of gaming". Nvidia's new redefining product is said to have been "more than five years in the making". As to what the product could be, with such a bold billing, we can only offer speculation.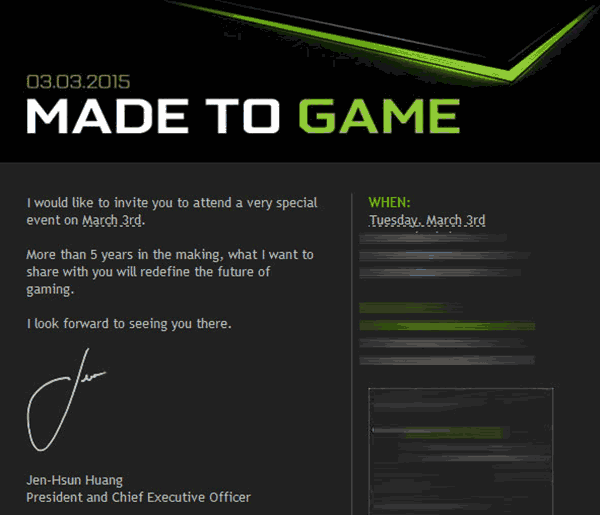 Reading around it might be a VR tech product and/or a gaming product incorporating the new Tegra X1 - as Tegra chips have been in the making for five years, approximately. Only a week ago we heard rumours that a new SHIELD tablet powered by the Tegra X1 'super chip' might be released at GTC (GPU Technology Conference 2015), San Jose which starts on 17th March. So perhaps this tablet will actually be revealed a little earlier at the GDC… Other possibilities for announcement at GDC is an Nvidia made Steam Machine and/or more Maxwell architecture graphics cards.
Nvidia Financial Results for Fourth Quarter and Fiscal 2015
Nvidia has just published its Q4 and fiscal 2015 results boasting record revenue for the most recent quarter. The highlights are as follows:
Record revenue in Q4 of $1.25 billion , up 9 per cent from $1.14 billion a year earlier.
GAAP diluted EPS in Q4 of $0.35 , up 40 per cent from $0.25 a year earlier. Non-GAAP diluted EPS in Q4 of $0.43 , up 34 per cent from $0.32 a year earlier.
Record revenue in fiscal 2015 of $4.68 billion , up 13 per cent from $4.13 billion a year earlier.
GAAP diluted EPS in fiscal 2015 of $1.12 , up 51 per cent from $0.74 a year earlier. Non-GAAP diluted EPS in fiscal 2015 of $1.42 , up 43 per cent from $0.99 a year earlier.

Jen-Hsun Huang, president and chief executive officer of Nvidia said that the results show the momentum behind the company's specialised platforms for graphics, automotive, cloud computing and supercomputing. "GeForce and SHIELD are extending our reach in the rapidly growing global gaming market. Our DRIVE auto-computing platform is at the center of the advance toward self-driving cars. GRID is enabling enterprises to finally virtualize graphics-intensive applications. And our Tesla accelerated computing platform is helping to ignite the deep learning revolution," he explained.
The company will return $600 million to shareholders through ongoing quarterly cash dividends and share repurchases in fiscal 2016. Some shareholders appreciate these dividend payouts but others would prefer the company to use the cash to invest in R&D for longer term goals and share price building.