The first major update for the Unreal Engine 4 has arrived hot on the heels of its debut at GDC2014, a little over a month ago. Unreal Engine version 4.1 is now available for subscribers to download and now fully supports several new game platforms including Linux-SteamOS, PlayStation 4 and Xbox One.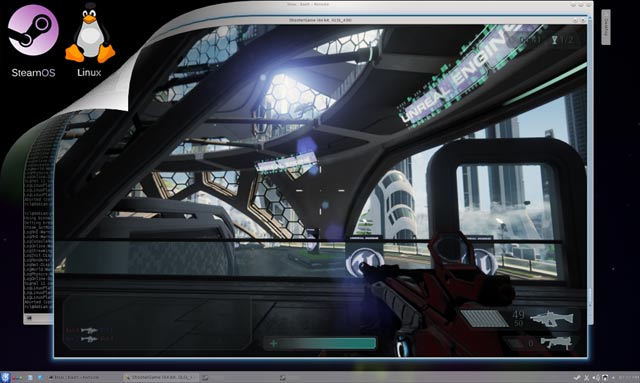 The UE4.1 update will make it easier for new developers to secure a license as Epic is offering UE4's complete source code, at no additional cost, directly to registered PlayStation developers and ID@Xbox members. This was not supplied in the initial release due to restrictions set by the console manufacturers but both Sony and Microsoft are said to be validating the engine now. Furthermore UE4-based titles can now be submitted before the validation process is complete. A rundown of registration steps with Sony and Microsoft can also be found here.

For now, deploying projects to Linux-SteamOS, PS4 or Xbox One requires compiling source from GitHub using a Windows computer. According to a Gamasutra report, quoting Epic's technical director Mike Fricker, the Xbox side of the code is "the same as Bluck Tusk is using to build the next Gears of War". The PS4 support will also allow developers to make games that will work with Sony's VR headset Project Morpheus. UE4 already supports Morpheus's rival VR headset Oculus Rift with a project called Couch Knights.
Version 4.1 will also provides refinements to workflow for iOS and Android platforms, new templates for both C++ and Blueprint visual scripting projects, over 100 improvements based on community feedback and support for Linux (which includes the Linux-based SteamOS). The support for Steam OS and Linux will make it easier and quicker for developers to port completed games to the open-source platforms, however it will still require a Windows or Mac machine to run the actual development kit and a Steam Controller to test the finished product.
UE4's Elemental demo is also available to download for free with the update, showcasing the engine's high-end rendering capabilities which include dynamic lighting and shadowing real-time reflections, subsurface scattering and GPU powered particle effects.

Unreal Engine 4 continues to be run as a subscription-based service by Epic, for $19 a month and 5 per cent of gross revenue from any commercial product made with the engine. If you are interested please read the extensive update details in the UE 4.1 release notes.