According to an email leaked to Kotaku, the popular games orientated YouTube network Machinima has been offering extra cash for video publishers who promote Microsoft's Xbox One.
Machinima boasted to its network members that "It's easy!" to make extra cash from promotion of the Xbox One by following the five steps outlined in the email embedded below: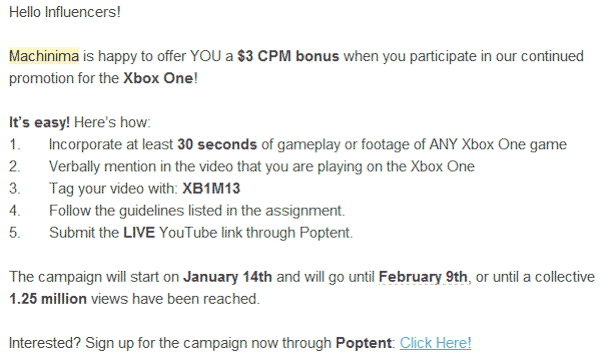 A subsequent Tweet by Machinima's Ron Smith also spread the word of "the easiest/best promo we've ever done!" detailing that members of the Vlogging network could "Earn an additional $3 CPM bonus for promoting the Xbox One!". That means people who took part in this promotion would get $3 for every 1000 views of their positive Xbox One video clip - on top of any other advert/views income.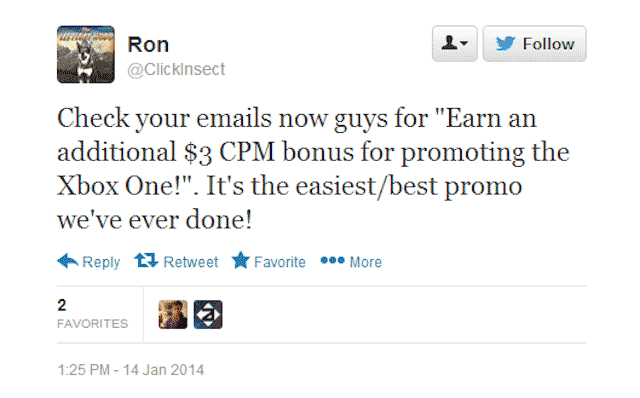 Kotaku calls the promotion "sketchy" as it appears to offer cash for coverage - but only for positive coverage. Looking at the Machinima contract for this promotion, uncovered by Ars Technica, one particular line insists upon no negative coverage; "You may not say anything negative or disparaging about Machinima, Xbox One or any of its Games in your Campaign Video." A further clause in the contract forbids Machinima network vloggers from disclosing that they are taking part in this promotion via an NDA. Specifically it says "You agree to keep confidential at all times all matters relating to this Agreement, including, without limitation, the Promotional Requirements, and the CPM Compensation, listed above." (above in the email screenshot)
So it looks like people looking to YouTube for impartial reviews better watch out for this kind of 'advertorial' content which isn't marked as such.
The last time we had YouTube on HEXUS news was due to the new live streaming facilities and also the news that a mass of video game related videos featuring footage of gameplay were hit by 'content ID matches' and taken down.