Sony today announced that sales of the PlayStation 4 console are doing exceedingly well. The total number of the next-generation consoles sold onto end users is over 2.1 million (as of 1st December). This number includes 700,000 units sold through in Europe and Australasia where the PS4 launched last Friday. Meanwhile figures from Black Friday sales in two major US stores show the Microsoft Xbox One selling twice as many units as Sony's PlayStation 4 on that day.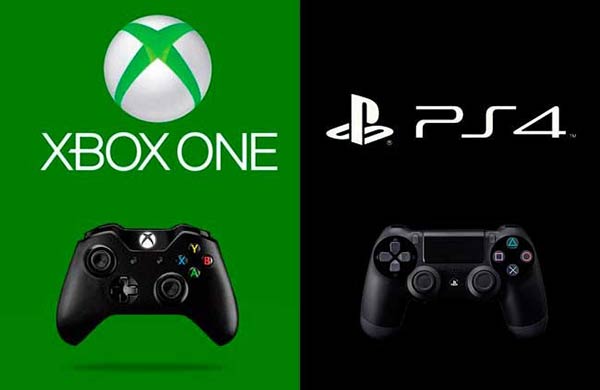 PS4 consoles sell like hot cakes
Sony is happy to report strong global sales of its newly launched PS4 console. The Japanese firm says this is a record-breaking launch and shows strong momentum going forward. Looking at the figures given, by 1st December there have been over 2.1 million PS4s sold to customers (not just sold to stock at retailers). Sony broke down the figures and informed us that 700,000 units sold through in Europe and Australasia. At the time of writing the PS4 is available for purchase in 32 countries.
Andrew House, President and Group CEO, Sony Computer Entertainment Inc. said that it has been the best launch in PlayStation history. He added that "Demand remains incredibly strong and continues to overwhelm the supply worldwide, but we are diligently working to meet those growing demands and to deliver additional PS4 units to our retail partners throughout the holiday season".
In related news a report today on VG247 says that the tiny $99 PS Vita TV games console and entertainment streaming device is coming to the west. Still no actual dates were mentioned and timing might depend on continued uptake of the PS Vita handheld console in particular territories.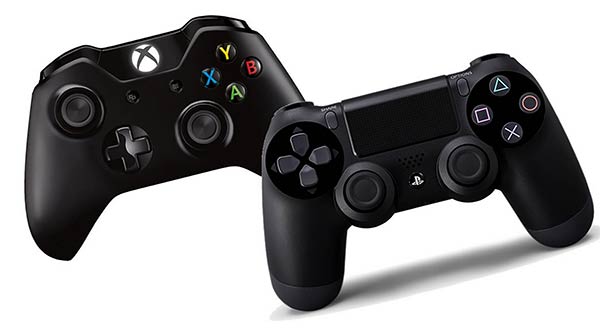 Xbox One soundly beats PlayStation 4 in Walmart and Target Black Friday sales
Looking at US sales at two massive stateside retailers, Walmart and Target, it looks like the Xbox One has done considerably better than the PlayStation 4. Research by InfoScout found that Microsoft's new console accounted for 31 per cent of console sales at said retailers' Black Friday sales with Sony's console getting just a 15 per cent share of the till ringing action.
The InfoScout console sales charts break down like this: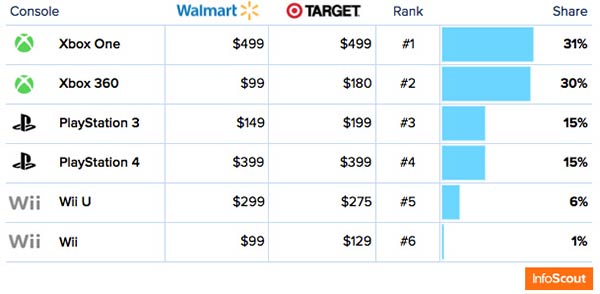 The figures for Microsoft were helped along by better supplies being on offer, reports GamesIndustry.Biz. Also the Xbox 360 was being sold at a very keen $99 price point at the Walmart stores.