Rockstar Games has unleashed a new trailer for the highly anticipated Grand Theft Auto V (GTA V) video game. It's actually three trailers in one with a part dedicated to each of the main protagonists; Michael, Franklin and Trevor. Each sub-trailer shows a glimpse of the character's "normal" life cut with scenes from their criminal lives. Sometimes you see them working together in the storyline that holds GTA V together.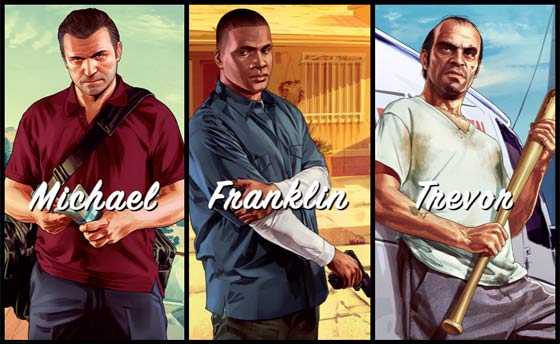 Michael is a wealthy and successful business man, he has everything men are supposed to need; wife, kids, house, car and golf club membership - he is living the American dream. However needs and wants are different and Michael wants "something that isn't this". He goes on to explain how he is rich but miserable with cut scenes of dysfunctional family life interspersed with GTA-style crime, car and gun mayhem. His clip ends with his therapist worriedly suggesting "I think you need a new therapist".
Franklin lives in a "troubled" neighbourhood filled with violence and people called "gangbangers". He and his friends seem to spend a lot of time in car chases with the police and in pole-dancing clubs. Apparently he wants to leave the gangland life behind and it's easy to understand why.
Trevor is a rough and tough type of guy who drives a big jeep, gets in lots of trouble and really needs to change his T-shirt more often. In his section of the Trailer video you see him together with Michael and Franklin and he seems like the catalyst that joins these three characters together. Being a typical "wildcard" personality he's a big character in the game and a source of much humour.
If you've watched and enjoyed the trailer, above, and you want even more analysis then IGN has done a "rewind theatre" of the three parts. The IGN team take as long as 15 minutes to pick through Trevor's section of the trailer to highlight hidden "references and Easter Eggs".
GTA V will be available for PS3 and Xbox360 from 17th September.